25th Anniversary Fowey Festival – Programme and Booking Office Now Live On-line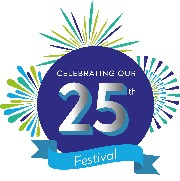 The 25th Anniversary Fowey Festival takes place from 12th – 20th May 2023. The programme is now live on the Fowey Festival website, where everyone can book tickets from Saturday 25th March.
Here is an overview of the treats that are in store this year.

Professor Kate Williams, historian, author and television presenter, has become Fowey Festival's Patron. She returns to us this year amidst a hugely warm welcome, and this time, she is talking about her latest television series, Secrets of the Royal Palaces, which was recently shown on Channel 5.

Well-known faces from the worlds of politics and broadcasting speaking this year include Sir Vince Cable, Ann Widdicombe, Mark Easton, and Iain Dale. In addition, Melissa Quinn, head of Space Cornwall, Turner Prize winner, English conceptual, video and installation artist Jeremy Dellar, and chef and restauranteur James Strawbridge will all speak on their life and work.

We are delighted that Lennie Gooding, Chair of Virago Press, who was to have spoken at the 2020 Festival, which had to be cancelled because of the pandemic, is attending the Festival this year to talk about the feminist publishing house Virago, which, as you will all know, is the current publisher of virtually all of Daphne du Maurier's canon of work.

Pat Newberry returns this year with a talk about the rich collection of historic houses in Cornwall and to tell us some entertaining stories about the houses and their owners.
As usual, the Q fund will be presenting a talk. This year Bert Biscoe and Pauline Sheppard will select some favourite thoughts and reflections from Sir Arthur Quiller-Couch's beautiful book, From a Cornish Window.
Many local and national best-selling fiction and non-fiction authors are coming to Fowey to discuss their books. They include Fern Britton, Liz Fenwick, Linda Grant, Veronica Henry, Tim Hannigan, Wyl Menmuir and Raynor Winn. But look at the programme, and you will find many more. Rachel Lambert also returns to Fowey Festival to talk to her audience and take them on a foraging walk.

All of you who enjoy the Daphne du Maurier element of the Festival will be delighted to know that Kate Aspengren is returning to Fowey and will be talking to us about Rebecca on stage and screen. In addition, Serena Trowbridge returns this year to present her talk, The Past is Still Close to Us: Reading Rebecca as Gothic. She also entertains us with Pre-Raphaelite Mythbuster: Gossip, Scandals and Secrets. Serena and Dr Ella Westland will lead reading groups covering Castle D'Or, The Loving Spirit, The House on the Strand and Daphne's short story The Lordly Ones.
Daphne du Maurier's grandson, Rupert Tower, a Jungian analyst, will be presenting a talk about a new book he has co-edited with Christopher Power, Jung's Shadow Concept: The Hidden Light and Darkness Within Ourselves. He will concentrate on the chapter about Daphne du Maurier's novel The Scapegoat and share his thoughts on what his grandmother may have been engaging with in her inner life while writing the novel. This talk is sure to produce all sorts of interesting insights about Daphne.
The evening entertainment at Fowey Festival is always varied and really enjoyable, but this 25th anniversary year is superb. The hugely popular Fisherman's Friends return, they love playing in Fowey, and we love seeing them. There are concerts by renowned pianist and organist Jonathan Delbridge, the Bookshop Band, Glorious Chorus, The People's String Foundation and Fowey River Singers with St Austell Town Band. There is a lunchtime recital by Arkangel, which they have based on Laurie Lee's As I Walked out One Midsummer Morning and a great evening of comedy with Johnny Cowling.
In addition to all those treats, there will be workshops, guided walks and the ever-popular Art Trail and Secret Gardens.

There is so much packed into this very special Festival. We look forward to seeing you all. Please click
here
to view the programme and get booking your tickets!