Two Daphne du Maurier letters to be auctioned in Cornwall this month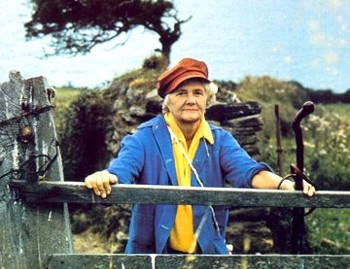 Daphne du Maurier on a walk across the land around Kilmarth
A generous supporter of the Fowey Festival of Arts and Literature has donated two letters written by Daphne du Maurier to the festival.

The festival's board of trustees have made the decision to auction the letters to raise funds for the festival, which, as many of you will know, is a charity, meaning that all the money needed to hold the yearly festival is made through fundraising.

The letters are dated from the 1970s and are typed on Kilmarth notepaper with Daphne's handwritten signature at the end of both letters. They are friendly and chatty replies to correspondence from a Mrs Cullen. In the first letter, Daphne discusses the merits of living in Cornwall as opposed to simply holidaying in the area, talking about her own views of life in Cornwall and including family references. In the second letter, she talks briefly about her early writing compared to her much later book, The House on the Strand. Mrs Cullen is, by then, living in Scotland, and Daphne talks about tourists in Cornwall and her own first visit to Scotland, where she was a tourist herself.

These are two super letters and provide an excellent insight into how willing Daphne was to write interesting and thoughtful letters to her fans. It is also a great opportunity to own a letter written by Daphne du Maurier yourselves.

The letters are being auctioned as two separate lots at David Lay Auctions in Cornwall. David Lay has three auction salesrooms, and the letters are being included in the Rare Books & Works on Paper auction, which takes place over two days, on Thursday 30th November (lots 1 – 350) and Friday 1st December 2023 (lots 351 – 700), at the Lanner Salesroom. The auction begins at 10am each day.

The Daphne du Maurier letters are being auctioned on the first day of the sale (Thursday 30th November), and their lot numbers are 241 and 242. In the description of the letters, David Lay states that the lots are being sold to raise money for The Fowey Festival of Arts and Literature. Because Fowey Festival is a charity, the auction house is not charging us a seller's commission. This is extremely generous of them and means that Fowey Festival will receive the full selling price, with none of the usual deductions.

You can attend the auction in person or online, and you can bid in the room, by telephone or by sending in bids before the day. To find out more about bidding at a David Lay auction, please click here https://www.davidlay.co.uk/buying/

To view the auction online and to register so that you can bid, please click here https://www.davidlay.co.uk/auction/details/b007-rare-books--works-on-paper/?au=261.

The details for David Lay's salesroom in Lanner are as follows:

Lay's Auctioneers, Church Row, Lanner, Redruth, Cornwall, TR16 6ET.


What3words: sprawls.called.cocoons

Auction viewing days prior to this auction are:
Saturday 25th November - 9am – 1pm
Mon 27th, Tue 28th, and Wed 29th November - 9am – 5pm.

Viewing is by appointment only – please note there is minimal parking space at this location.

Click here to book a visit https://www.davidlay.co.uk/appointment/

November 2023.