A day-by-day look at the events taking place at Fowey Festival – Sunday 14th May
Today begins with Kev F Sutherland taking a masterclass in comic art, from 10am until 12 noon, in the Parish Hall. This event is for everyone from age seven upwards and will be a lot of fun. Also, this morning there is a Daphne du Maurier's Fowey guided walk, which will take you through the landscapes that inspired much of Daphne's writing. Walkers set off from the main car park in Hanson Drive at 10.30am. The walk takes two hours.
Cornish writer Natasha Carthew presents the first Town Hall talk of the day, Undercurrent – A Memoir of Poverty, Nature and Resilience, at 11am.
At 12.30, Festival Friends have been invited to meet the Festival team for a drink and a cocktail Cornish pasty. This is a lovely opportunity for the Trustees of Fowey to meet and talk with the people who have supported the Festival by becoming a Friend.
Linda Grant and Lennie Goodings

At 2pm, the Town Hall events resume with bestselling author Linda Grant in conversation with Lennie Goodings, discussing Linda's new novel The Story of the Forest. Linda and her book, The Story of the Forest, have just been nominated for the shortlist of the Orwell Prize for Political Fiction 2023. At 4pm, Cornish author Tim Hannigan presents The Granite Kingdom: A Cornish Journey, an illustrated talk in which he takes his audience on a journey from the banks of the River Tamar to his family home near Land's End, exploring some misunderstood aspects of Cornish History along the way.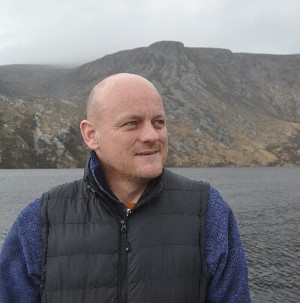 Tim Hannigan
In the evening, one of the region's leading choirs, Glorious Chorus, brings us a concert, part of the tour of farewell concerts they are performing this summer. This event begins at 6pm in the Parish Church.