Fowey Festival of Arts and Literature - book stamp

Fowey Festival is back after a two-year break because of the pandemic. To celebrate, we are introducing a new little treat for you all when you buy your festival books. The Daphne du Maurier website, in collaboration with Fowey Festival and Waterstones, has produced a Fowey Festival book stamp. When you buy your festival books, you can have them stamped as a happy memory of when and where you purchased them.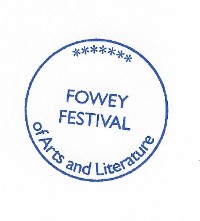 The Royal Fowey Yacht Club will be the Fowey Festival venue for buying tickets for festival events, visiting Waterstones pop-up book shop, and enjoying a coffee, a snack or a meal just as it used to be before Covid, which is terrific. Waterstones will also be attending all the book-related events, so if you havenít bought the book before the event and realise how much you want to, they will be right there for you.

We first saw book stamping at Shakespeare and Company, the English language second-hand and antiquarian book shop, in the shadows of Notre Dame in Paris. More recently, we have seen the staff in the shop at Beatrix Potterís Hill Top Farm in the Lake District stamping Peter Rabbitís footprints into childrenís books, which we thought was fun.

We think it is a very special way to add memories to your book so that every time you open it, you will remember your visit to Fowey for the festival or being at a particular event. So, this year when you buy your books from the pop-up shop or at an event, you will be able to have your book stamped with the Fowey Festival book stamp and make your own memories.

We all look forward to seeing you at the Fowey Festival very soon.
To look at the programme and book your tickets, please click here