Three Faced Doll, a new psychological thriller from Suzi Bamblett
In February, we introduced you to Suzi Bamblett and her debut novel, The Travelling Philanthropist. Suzi's second novel Three Faced Doll is due to be published on Monday 15th November, and we are sure you will enjoy it just as much.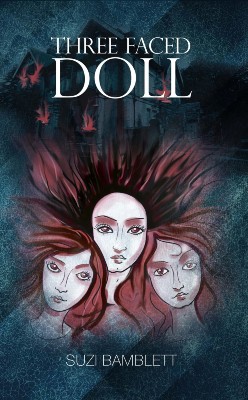 The cover image for Suzi Bamblett's new psychological thriller Three Faced Doll.
Suzi's work is principally inspired by her love for Daphne du Maurier and her writing. This is what she has to say about Three Faced Doll and that du Maurier influence:
"Every one of us has his or her dark side. Which is to overcome the other"?

Daphne du Maurier spoke these words when discussing her novel, The Scapegoat, but many times in her writing, particularly in her short stories - Don't Look Now, The Blue Lenses, The Breakthrough – Daphne delved into the dark side of her own psyche. For me, the best example of this is in her novel The Parasites.
Daphne said this was the only novel she wrote without detailed preparation. Perhaps it has more of a Virginia Woolf flavour than her other novels? Not a lot happens - the focus being the characters.
Daphne explained the three main characters were created to represent different facets of herself.

"Maria, Niall, Celia were the three people I know myself to have been."
The novel has autobiographical elements and is told in a complicated and confusing way.
I play with a similar theme in my new psychological thriller Three Faced Doll. A story about three very different triplets. Or are they?
The book goes on sale on the 15th November.
E-book £2.99, and paperback £9.99.
The paperback will be available from independent book shops, that use Gardners as their wholesaler. Or you can buy the book direct from Suzi at her website https://broodleroo.com. The e-book and paperback are also available from Amazon.
13th November 2021.