Daphne du Maurier Society of North America – What's left for 2021?
The Daphne du Maurier Society have sent us a poster remaining us all about their two remaining events for 2021.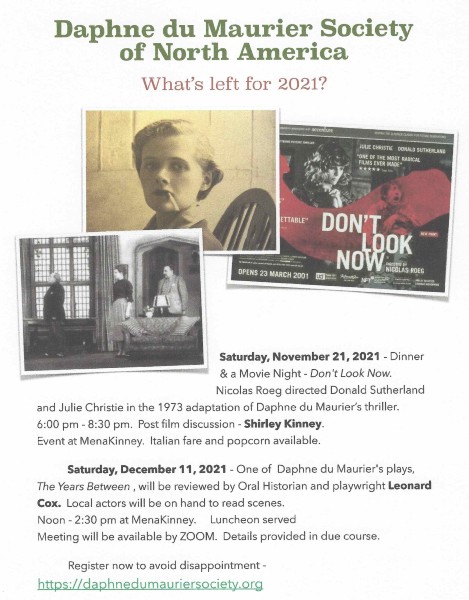 On Saturday 20th November, 6 pm - 8.30 pm, is the Dinner and Movie night, showing the iconic film Don't Look Now, followed by a discussion led by Shirley Kinney, and Italian food to suit the mood of the evening.

On Saturday 11th December, noon – 2.30 pm, is the annual Christmas in Cornwall Luncheon (held in Dallas, Texas, rather than in Fowey, unfortunately). This event includes a talk about Daphne du Maurier's play The Years Between, led by oral historian and playwright Leonard Cox.
This event will be available via zoom.

For all the details, please click here: https://daphnedumauriersociety.org/2021-events