The film Donít Look Now is to be screened on BBC FOUR this week
A news flash for television viewers in the UK.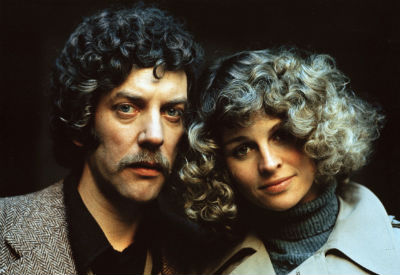 Donald Sutherland and Julie Christie as John and Laura Baxter in Don't Look Now.
Nicholas Roegís brilliant adaptation of Donít Look Now, based on the short story by Daphne du Maurier, is to be screened on BBC FOUR on Thursday 28th October at 9 pm.

The BBC describe the story like this:

Grieving over the loss of their young daughter in a tragic accident, Laura and John Baxter visit Venice, where John is helping to restore a dilapidated church. As John works, Laura is befriended by two sisters, one of whom warns them to leave the city, claiming she has seen their dead daughter.

That apparently straightforward description of the plot will draw you into what will prove to be a fascinating, gripping and ultimately pretty terrifying tale, set in Venice, with its network of canals and pathways, among which it is easy to lose oneself.
Here at the Daphne du Maurier website, we think Donít Look Now is by far the most terrifying of all Daphne du Maurierís short stories. Although the film strays a little from the original plot, it successfully brings all the tension and uncertainty of the book, as it leads us to its shocking finale.

This is a great film to watch as we approach Halloween.

Just donít turn the lights off!