Daphne du Maurier Society of North America Ė Events Reminder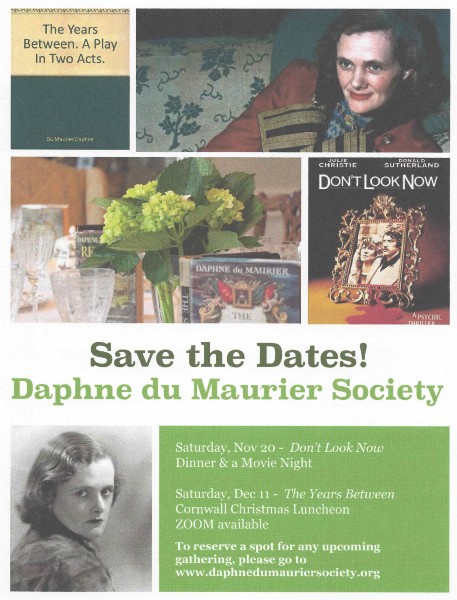 The Daphne du Maurier Society of North America reminds members that the next event in the diary is the Donít Look Now Dinner and Movie Night at 6 pm on Saturday 20th November. For more details, please click here: https://daphnedumauriersociety.org/2021-events
Then, at lunchtime on Saturday 11th December, the annual Christmas gathering takes place. This year it is The Years Between Cornwall Christmas Luncheon, at which Oral Historian and playwright Leonard Cox will review Daphne du Maurierís play, The Years Between.

The Years Between is set during the Second World War. It tells the story of the wife of a British Member of Parliament who learns her husband has been killed while on active service. She rebuilds her life, takes on her husbandís seat in parliament and prepares to marry a neighbouring farmer when unexpected news changes everything.

For those unable to attend the Christmas event, the review and the following discussion will be available via zoom.

Look out for more details as we get them or go to: https://daphnedumauriersociety.org/2021-events