Greetings cards inspired by Daphne du Maurier
Amanda White Designs, run by collage artist Amanda White, creates beautiful greetings cards, bookmarks and prints, using a simple combination of scissors, glue and paper, which she mainly takes from old magazines. This sounds deceptively easy but does, in fact, take hours of painstaking work to produce one beautiful image. You can see from the image of Ferryside, which is in the process of being made, how delicate the work is, with every detail being placed individually.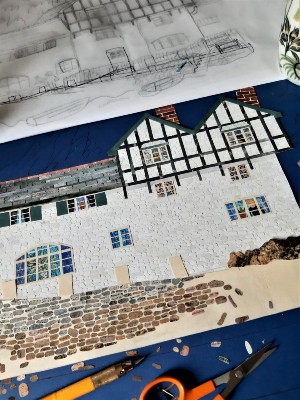 The image of Ferryside being created by Amanda White
Amanda originally trained in theatre design, which is reflected in the subject matter that she chooses for her collages. She creates works influenced by literature, history, architecture and gardens.
Images that she has created include many of the Brontë sisters, the Parsonage where they lived and the wild Yorkshire moors surrounding them. She has also produced work relating to the Bloomsbury writers and artists, including Virginia Woolf, creating images in Woolf's home and garden at Monks House and Vanessa Bell and Duncan Grant's home, Charleston Farmhouse.
Amanda is currently working on her first du Maurier related pictures, firstly the image of Daphne and the sailing ship, representing The Loving Spirit, and then the beautiful view of Ferryside. These two pictures will shortly be available as greetings cards.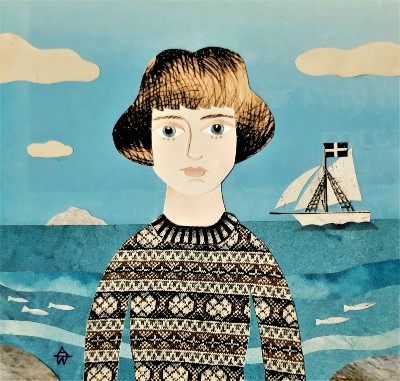 A greetings card inspired by Daphne du Maurier's first novel The Loving Spirit
Keep an eye out for these two items, which will be available in the coming weeks.
Meanwhile, to see the range of beautiful cards and other items available from Amanda White Designs, please click here: https://www.amandawhitedesign.com