The Women's Prize Trust and the company Girls on Tops launch Daphne du Maurier t-shirts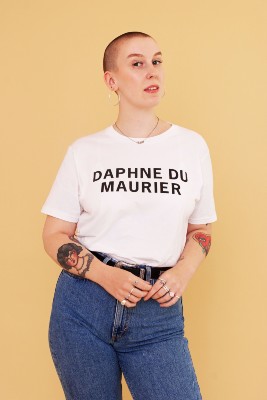 As part of the Women's Prize Trust's mission to champion women writers on a global stage, they are launching a collaboration with Girls On Tops https://www.girlsontopstees.com to produce a series of five t-shirts branded with the names of celebrated female authors who have changed the world, including DAPHNE DU MAURIER. Girls on Tops is a celebration of female voices in film, and this is their first foray into celebrating women writers, chosen from a public vote via their social media. The t-shirts will be sold in the UK only.

Girls On Tops put profits from the t-shirts towards funding female-led film projects and commissioning female-led film writing. £5 from each sale will go to the Women's Prize Trust, put towards their work empowering all women to raise their voice and own their story.

The five celebrated authors who have changed the world chosen for this collaboration are Daphne du Maurier, Maya Angelou, Nora Ephron, Toni Morrison and Virginia Woolf.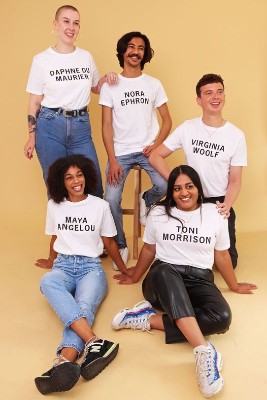 The t-shirts will be in the same style as Girls on Tops' standard style: a clean white tee with simple black type. T-shirts have an incredible power to communicate a dialogue between their wearer and the rest of the world. This power lies in its simplicity – t-shirts leave space for the wearer to project their own meanings and start their own dialogues. They are made from 100% cotton, with the GIRLS ON TOPS × WOMEN'S PRIZE logo on the reverse of the collar. They come in two styles, regular or fitted, and can only be ordered from the Girls On Tops website.

Please click here to order your t-shirt: https://www.girlsontopstees.com/shop/daphne-du-maurier-t-shirt