Five Wartime Walks In and Around Fowey by Paul Richards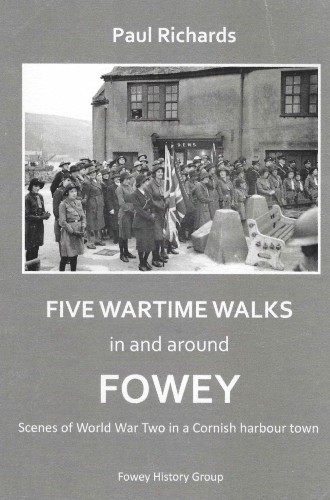 A new book has just been published in Fowey. While it is not specifically related to Daphne du Maurier, we think everyone whose interest in Daphne's work has led them to Fowey will find this book fascinating.

Five Wartime Walks In and Around Fowey: Scenes of World War Two in a Cornish harbour town by local historian Paul Richards provides a fascinating insight into what WW2 meant to the town of Fowey, its residents, and the military personnel posted there. Seemingly remote from the major dramas of the Second World War, the small ports of the south-west, such as Fowey, played critical roles in defending our coast and in the launching of the greatest ever seaborne invasion fleet, which began the liberation of Nazi-occupied Europe.

Each walk takes you to a different part of Fowey and points out all sorts of locations and relics of that time. There is a brief mention of the towns literary greats, Sir Arthur Quiller-Couch and Daphne du Maurier, and many interesting photographs, including one of the yacht Shimmer, Troy number 4, built in 1930. She was the property of Colonel E Treffry of Place until 1946, when Daphne du Maurier's husband, General Browning, took ownership of her.

Copies cost £5.00 and are available from Fowey Museum and Shrew Books.