Sophie Reid is going to run the Daphne du Maurier website Twitter account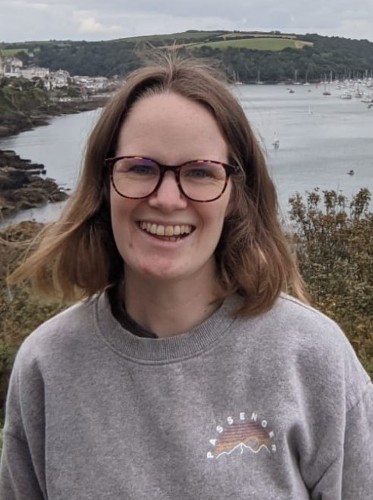 Sophie
We are delighted to announce that Sophie Reid has agreed to run the Daphne du Maurier website Twitter account for us, starting almost immediately. Some of you may well recognise her from the literary festival that takes place in Fowey each year. She has attended many events and worked as a steward at a number of festivals when she was a student.

Sophie has a great love for and vast knowledge of Daphne du Maurier and will be a hugely valuable member of our team. She also lives in Fowey, so now we will all be in the same location, which makes working together such a pleasure.

Like so many of us, Sophie was introduced to the works of Daphne du Maurier by reading Rebecca. She was about twelve or thirteen when she first read it, and it was a copy given to her by her grandmother, who loved Daphne and had a great collection of her books. Once hooked by that first novel, Sophie borrowed more titles from her grandmother, and her interest in du Maurier really took hold. Sophie still has her grandmother's copy of Rebecca in her collection.

Soon after that, and while Sophie was still at school, she started making regular trips to Fowey on family holidays and found her way into Bookends to buy more of Daphne du Maurier's works, biographies, and other books about her. From those early visits, Sophie knew she wanted to be able to live in Fowey and to write.

Sophie studied English at the University of Exeter and wrote her dissertation on Daphne, and then studied for her master's degree, in creative Writing, also at Exeter. These days, Sophie works with the water sports team down at Polkerris, she is a trained water sports instructor, but her work is primarily land-based, focusing on the bookings and administration side.

In her own time, Sophie writes. She mainly focuses on fiction, particularly on middle grade writing for children aged nine to twelve. Her stories feature magic, adventures, and mystery and are about friendship and discovering who you are. Sophie is always heavily inspired by the Cornish landscape and is currently working with a mentor as she edits a novel about a boy discovering magic and a creepy magical house. Occasionally, Sophie also writes some poetry and has a novel for grown-ups brewing away that she hopes to write someday.

We are so fortunate to have this multitalented du Maurier expert joining us as the website. We are sure you will all welcome her and look forward to following her through the pages of the Daphne du Maurier website Twitter account.
Ann Willmore.