Daphne du Maurier Society of North America Dinner and Movie Night – Saturday 8th May 2021, 6pm – 8.30pm
In 2021 the Daphne du Maurier Society of North America have chosen the books The Scapegoat and Don't Look Now to focus on at their meetings. Starting with The Scapegoat at the March meeting, Professor Sarah Berry led an in-depth discussion about the novel.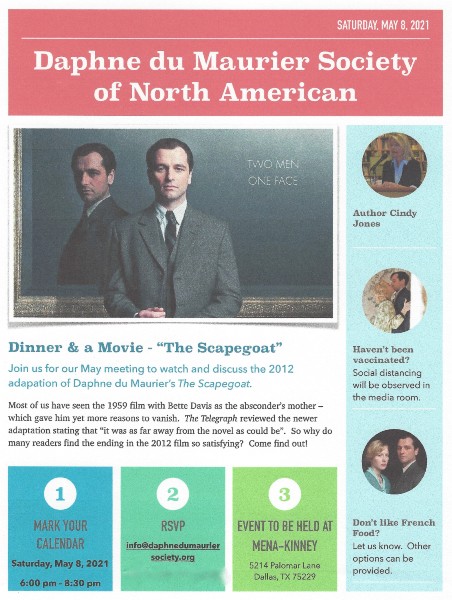 On Saturday 8th May, from 6pm – 8.30pm, the Society brings you a Dinner and Movie Night. The film will be the 2012 production of The Scapegoat starring Matthew Rhys. This adaptation departs from the novel in several ways, but Daphne du Maurier's dark psychological overtones are maintained. Indeed, the first time I saw this adaptation, I felt that du Maurier could easily have written the novel that way. The storyline does not necessarily lose anything because of the changes. Matthew Rhys performs the dual role brilliantly, his supporting cast is superb, and the set design is spectacular.
For dinner, your hosts stay faithful to the original novel and serve French cuisine from La Madeleine.
Author Cindy Jones will lead a discussion about the novel's two film adaptations.
For more information and to book, please click here: https://daphnedumauriersociety.org