The film of The Years Between has just been put onto YouTube
The 1946 film of The Years Between, based on the play of the same name by Daphne du Maurier has just become available to view on YouTube. This black and white British film shot at the Riverside Studios was directed by Compton Bennett and starring Michael Redgrave, Valerie Hobson and Flora Robson.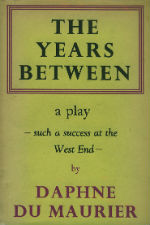 The original play, published by Victor Gollancz in 1945
This is the story, set in WWII, of a woman called Diana Wentworth, whose husband is missing presumed dead. During the course of the play/film, she rebuilds her life, finding fulfilment and happiness, even taking on her husbandís former role as an MP. It is only at the end of the story that we find out an unexpected truth.
Click here to watch the film: https://www.youtube.com/watch?v=Q25shU2lWL8