Fowey Festival Online Auction - A look at the du Maurier related items
The Fowey Festival online auction is offering a fantastic range of items, which you might like to bid on to treat yourself or to buy some Christmas gifts for family or friends. Many of Fowey's local businesses have made donations, as have other supporters in the area. You might like to bid on a piece of art, some jewellery, or a book. Or maybe on a treat such as a cream tea or even a stay in Fowey.
For all you du Maurier followers there are some great items, in a wide range of price bands, especially for you.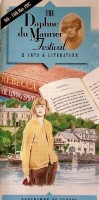 Lot no 17
The first item I want to tell you about is Lot no. 17, a programme from the first Daphne du Maurier Festival in 1997. Pieces of ephemera, such as programmes or tickets, are so often thrown away, that it makes something like the first-ever Festival programme an exceptional item. I expect lots of people to bid on this and whatever you end up paying, it will be worth it!
On 6th August 1996, the Royal Mail produced a set of First Day Cover stamps commemorating Women of Achievement. The collection featured five women who had died in the last decade, Dorothy Hodgkin, Margot Fonteyn, Elisabeth Frink, Marea Hartman and Daphne du Maurier. Daphne du Maurier's stamp was for the value of 37p. It showed a portrait of her, courtesy of the National Portrait Gallery, and her typewriter, courtesy of the du Maurier Room at Jamaica Inn.
In this auction, there are two commemorative postage covers available. Lot no. 65 is the 37p stamp of Daphne du Maurier stamped with a postmark for the last day of the 1997 Festival. Lot no. 66 is the same as above, but this one has been signed by Daphne du Maurier's three children Tessa Montgomery, Flavia Leng and Kits Browning. Both are lovely items, the unsigned item might be quite a bargain, but the one with the du Maurier family signatures is likely to be very sought after, so get bidding on these two items.
| | | |
| --- | --- | --- |
| Lot no 65 | | Lot no 66 |
Lot no. 9, is another lovely ephemeral lot, comprising a bookmark and a postcard, marketing material, promoting the publication of the new paperback edition of Rebecca in 2003 when Virago became du Maurier's publisher. Also, a Carlton publicity brochure with a preview of new programmes for the 1997 season and a full page of pictures and editorial about the 1997 Carlton production of Rebecca.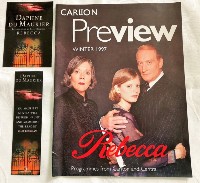 Lot no 9

Back in 2001, Sally Beauman appeared at the Daphne du Maurier Festival, talking about her new novel Rebecca's Tale, a companion novel to Rebecca. The book was due to be published in September 2001 and to enable people to start reading and get a glimpse of what was to come, copies of the first six chapters of the novel were published in a slim volume and distributed to festival-goers. Lot no.18 is a postcard and a copy of the six-chapter extract of Rebecca's Tale. This extract is now difficult to find and has increased in its desirability in the years since it was first published. Do bid on this lovely lot.
| | | |
| --- | --- | --- |
| Lot no 18 | | Lot no 61 |
A set of six du Maurier Festival mugs commissioned for the first Fowey Festival in 1997 comprise Lot no. 61. These mugs are made of beautiful fine china and have a picture of Ferryside on the front. They are perfect for your morning coffee, or a cup of tea, while you sit and read your next du Maurier book.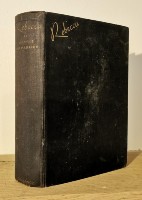 Lot no 7
Lot no. 7 is an exceptional item. It is a first edition copy of Daphne du Maurier's most famous novel Rebecca. This book was published in 1938 and, considering its age is in reasonably good condition. The extra special bonus is that Daphne du Maurier's son, Kits Browning, has very kindly agreed to sign the book, with a personal dedication to the lucky winning bidder, so this is definitely one to watch and get bidding on.
Lot no 2 is a pair of Daphne du Maurier first editions – Growing Pains: The Shaping of an Author (1977) and The Rebecca Notebook and Other Memories (1981), Daphne du Maurier's two autobiographical works. Growing Pains takes you from Daphne's childhood to her marriage. The Rebecca Notebook opens with Daphne's original notes and epilogue for her famous novel, Rebecca, then continues with eleven essays on subjects that were important to her personally. There are also three poems. Two superb books on which to bid.
Lot no 2

Signed editions of Daphne du Maurier's books are increasing in value all the time, making it more and more difficult to find one. Lot no. 55, is a 1972 second edition of Not After Midnight (published just two months after the first edition), inscribed and signed by Daphne du Maurier on the title page. This book of five short stories includes Don't Look Now, in print for the first time, and a dust-wrapper designed by Daphne's daughter Flavia. This could be your chance to own a signed du Maurier title.
Lot no 55

I hope this information has encouraged you all to look closely at these, and all the other items in this fabulous auction. Please to get bidding.
To see all the Fowey Festival Online Auction items and to start bidding click here: https://www.jumblebee.co.uk/foweyfestauction