A SAP Zoom Event – A Virtual Discussion and Q&A of the 1963 Hitchcock Film Adaptation of the Daphne du Maurier Story: The Birds
The Society of Analytical Psychology is holding another of its occasional events discussing the work of Daphne du Maurier and its transferral into film. This time the subject is The Birds.
The event takes place on Sunday 22nd November 2020 from 3.00 to 4.30pm.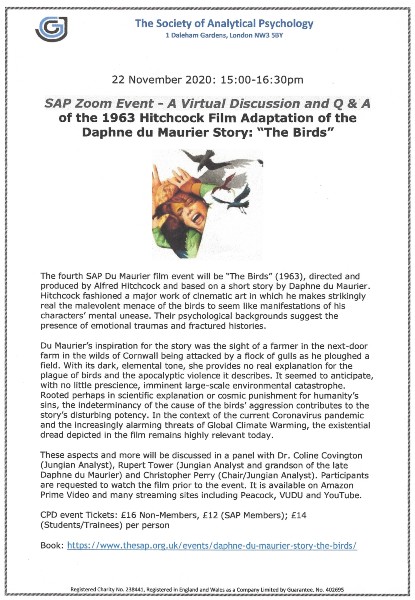 Daphne du Maurier's inspiration for her short story The Birds was the sight of a farmer ploughing his field on the next-door farm to her home at Menabilly. Gulls were attacking the farmer, and this led to Daphne's story of the birds violent and repeated attacks on a small Cornish community. With a dark, elemental tone, she provides no real explanation for the plague of birds and the apocalyptic violence it describes. It seems to anticipate with no little prescience, imminent large scale environmental catastrophe.
Hitchcock fashioned a major work of cinematic art, based on the short story, in which he makes strikingly real the malevolent menace of the birds to seem like the manifestations of his characters' mental unease. Their psychological backgrounds suggest the presence of emotional traumas and fractured histories.
These aspects and many more will be discussed in a panel with Dr. Coline Covington (Jungian Analyst), Rupert Tower (Jungian Analyst and grandson to the late Daphne du Maurier) and Christopher Perry (Chair/Jungian Analyst)
Participants are asked to have watched the film before taking part in the event.
CPD event tickets are:
£16 non-members
£12 SAP members
£14 Students/trainees.
To book, please click here: https://www.thesap.org.uk/events/daphne-du-maurier-story-the-birds/