Lily James interview in Harperís Bazaar Magazine November 2020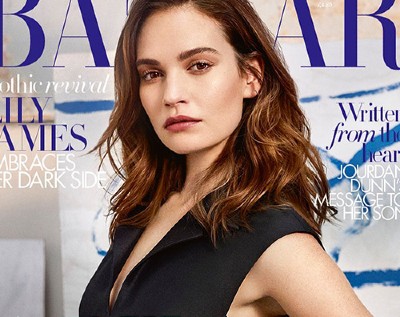 The November issue of Harperís Bazaar UK, published on 1st October 2020, includes a fascinating interview with Lily James in which she discusses her role as the second Mrs de Winter in the new Netflix adaptation of Rebecca (released on 21st October). The article also includes some beautiful images of Lily wearing gorgeous outfits, in that stylish way which is so familiar to us if we read the magazine regularly.
Because of coronavirus Charlotte Brook, who interviewed James and wrote the article, had to conduct the interview via zoom. Happily, though, last year she did have the opportunity to attend a day of filming at Hatfield House in Hertfordshire. She was lucky enough to witness the filming of one of the key scenes - the Manderley Ball and that critical moment when the nameless narrator comes down the stairs dressed as Caroline de Winter.
We canít wait to see how Ben Wheatley interprets Daphne du Maurierís most celebrated 1938 novel, Rebecca, for his 21st-century audience, bearing in mind that he is most well-known for horror. We already know that he has said his adaptation is very much based on du Maurierís novel and not on previous film or television adaptations. He has also alluded to the love between Maxim and his second wife, particularly when they first meet. Now we have a few more clues from Lily James.
The thing to remember, of course, is that, in the novel, the character Lily James plays doesnít have a name. When writing about her, she is usually referred to as the nameless narrator or the second Mrs de Winter. We never get to discover what her lovely and unusual name is.
In this interview, Lily tells us that when she first read the book, she was on a sleeper train in India, and the novel had a massive impact on her. One of her reasons for taking the role was because the nameless narratorís journey is so profound that Lily wanted to get inside her head. Initially, Lilyís thoughts stayed with the novel precisely as it had been written. But to honour the story and to give it greater resonance to a modern audience she concluded that the way to interpret her character was to make her subtly bolder. So, we need to watch out for how the personality of the second Mrs de Winter develops, with details including how she flirts with Maxim and wears trousers, quite a bold choice for a 1930s woman. How will this be balanced with the themes of the novel, which included jealousy, misunderstanding, and love? It seems our nameless narrator may be as strong as the other three leading characters in this film Ė the memory of Rebecca, Mrs Danvers and Manderley itself, all of which conspire to unnerve her.
We canít wait to see this new adaptation of Rebecca or to hear how its many fans receive it.