FUNDRAISING TO SAVE FOWEY FESTIVAL OF ARTS AND LITERATURE: A plea from Ann and David at Bookends of Fowey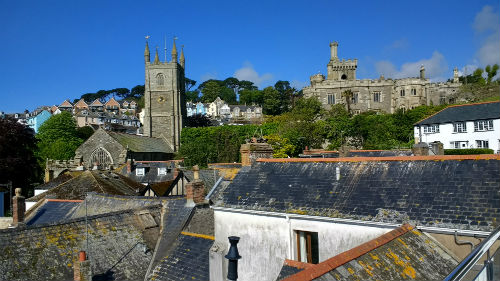 Do you come to Fowey each May for the Fowey Festival of Arts and Literature?
Do you come because of your interest in Daphne du Maurier?
Do you come because you love the beautiful little town of Fowey and enjoy all that it has to offer as well as the Festival?
Do you wander through the streets popping in and out of the shops?
Do you have a cup of tea or coffee and a little something at one of the lovely cafés, or a meal in one of the pubs, restaurants or hotels?
Do you get the ferry across to Polruan or Bodinnick or sit on Town Quay and watch the ever-changing activity on the river?
Do you take a walk to Whitehouse Beach or Readymoney?
Do you walk further up to St Catherine's Castle or on to Polridmouth or Polkerris?
Don't you just love it all and aren't you lucky to know all these special places and to share them with the friendly locals and other visitors to the Festival that you have come to know over the years?
We feel lucky to live here and enjoy sharing our town with festival visitors from far and near.
Fowey is a very special place.
The Festival in Fowey is a very special time.
THE FESTIVAL IN FOWEY IS IN GRAVE FINANCIAL DANGER.
Thank you very, very much to the 30 lovely people who have been kind enough to donate to the fund during the first five days of this appeal, which aims to save the Festival, for everyone, the visitors who enjoy coming to Fowey and the people who live and work in Fowey and need the Festival as an essential part of their yearly income.
Come on everyone – please make a donation, it doesn't have to be big, it could be £10. Imagine if you all donated £10 how quickly the money would rise. Of course, great big donations would be lovely too.
WE KNOW THE WORLD IS IN TURMOIL, THAT YOU ALL HAVE A LOT TO THINK ABOUT, AND YOU MAY HAVE OTHER ESSENTIAL CALLS ON YOUR MONEY, BUT PLEASE, THIS WEEK, MAKE A DONATION TO SAVE THE FOWEY FESTIVAL OF ARTS AND LITERATURE.
https://uk.virginmoneygiving.com/charity-web/charity/displayCharityCampaignPage.action?campaignId=11702