The Daphne du Maurier Society of North America Inaugural Meeting – a write-up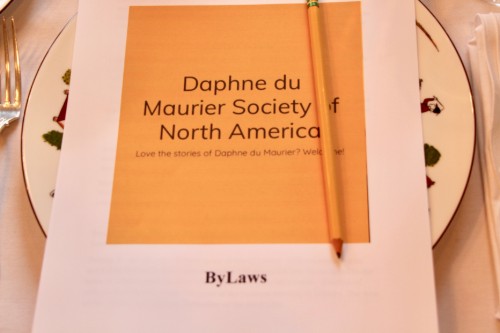 The Daphne du Maurier Society of North America held its first meeting on March 8th in Dallas. During the two-hour luncheon, President Shirley Kinney led a discussion concerning the by-laws of the society, and member Charlene Howell delighted the group by displaying a letter she received from Daphne du Maurier in 1958. Ms. Howell, a trained librarian who worked for the federal reserve bank, has read one book every five days for the past fifty-three years. She has had a deep passion for reading since childhood. Ms. Howell shared a story from her childhood about circumventing her local library's age requirements after she had read every book in the children's section, a tale evoking imagery of Roald Dahl's Matilda.
| | | |
| --- | --- | --- |
| | | When she was thirteen years old, she wrote to Daphne du Maurier, inquiring if the author had a favourite book. Quite incredibly, Charlene still has the response, protected lovingly in a slipcover. The letter is hardly even crinkled after sixty-two years. In slightly askew typewriter font, Daphne du Maurier claimed that there was not one novel she thought "[stood] above all others", but she did note a particular fondness for The Brothers Karamazov. She also provided a few lines of thoughtful reflection about some of her most recognized works. |
Each member took time to admire and read the letter as Ms. Howell told us about Daphne du Maurier's life and extensive body of work, noting that the author was the most popular writer in England during the forties.
| | | |
| --- | --- | --- |
| A lengthy discussion followed about which of her short stories was most enjoyable, though no one publication was agreed upon by the end of the lunch. With the by-laws discussed and our minds ready to read ( and re-read) the works of this author, the members of The Daphne du Maurier Society of North America said goodbye, already talking eagerly about the meetings to come - little did we know how much the world would change in the following days. | | |
Now those future meetings may be farther off than we had planned. Ah well, reading is a perfect activity for social distancing.
Photos of letter obtained with Charlene Howell's consent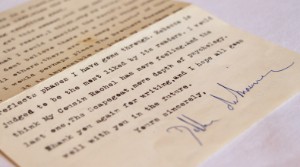 https://daphnedumauriersociety.org/