Fowey Festival Announces the Programme for May 2020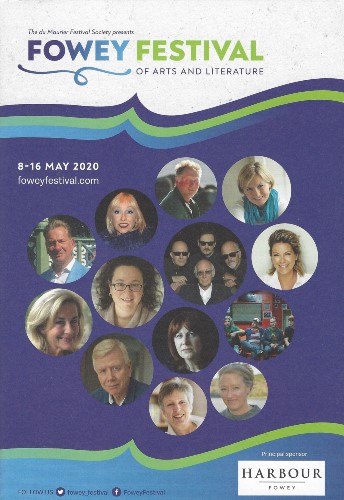 The Fowey Festival of Arts and Literature has announced the programme for May 2020. It is available on their website at https://www.foweyfestival.com/programme/ and copies will be winging their way through the post to people whose names are on the mailing list.
As always, Brenda Daly, the festival director, has put together a fabulous programme of events with something of interest for everyone. Headline events with include a drinks reception and luncheon at Fowey Harbour Hotel on Saturday 8th May with guest speaker, writer and journalist Gill Hornby. Gill's most recent novel Miss Austen was published a few weeks ago, and she will be talking about that book at an event at Fowey Town Hall on Sunday afternoon.
Evening music events, at Fowey Parish Church, include Mad Dog Mcrea (Friday 8th), Roger McGough and Little Machine (Wednesday 13th) and the Festival Jazz Night with Tina May and the Craig Milverton Trio (Saturday 16th).
Other names that we look forward to seeing include Michael Portillo, Andrew Lownie, Humphrey Hawksley and Fowey's very own Ian McCarthy. Familiar faces and much-loved writers returning to the festival include Julie Summers, Veronica Henry, Professor Helen Taylor and Raynor Winn. Other writers to look forward to seeing include Liz Fenwick, Sophie Hannah, Penny Smith, Lucy Diamond and many more.
Back in 2003, Virago became Daphne du Maurier's publishers. On Wednesday 13th May at 6pm, in Fowey Town Hall, Lennie Gooding, Chair of Virago Press, will be in conversation with one of her authors, Linda Grant. Lennie has just published her memoir of Virago, A Bite of the Apple, which she will discuss, and Linda will talk about her new novel A Stranger City.
Other Daphne du Maurier related events include Kate Aspengren's talk Rebecca: Page, Stage and Screen. There will, of course, be Dr Laura Varnam's reading groups, which have become a regular part of each festival. This year the books for discussion are Julius and Mary Anne. Laura will also present the du Maurier Anniversary talk, which will be on the subject of Daphne du Maurier and the Brontës and she will give a talk on Sir Gawain and the Green Knight.
This year Festival Film Night is on Friday 15th, at Fowey Parish Church, and is a chance to see the wonderful and heart-warming film Fisherman's Friends. There will be an introduction and Q&A with Fisherman's Friend John Cleave.
As well as a programme brimming with fabulous events, there will also be the, now traditional, guided walks, Art Trail, Fowey's Secret Gardens and the awards for the adult short story competition and the children's young writers and artists competition.
Friends of the Festival will be able to book tickets from Friday 6th March, and everyone else can book from Friday 13th March. Don't delay. There is so much to see and enjoy.