Books for the reading groups at Fowey Festival 2020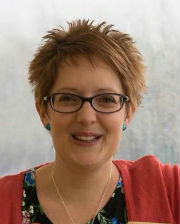 Dr Laura Varnam
As usual, Dr Laura Varnam has chosen two books for Fowey Festival's 'Du Maurier Reading Groups', and we are delighted to be able to tell you that they are the third book that Daphne du Maurier wrote, Julius (1933), and Mary Anne (1954), the novelised tale of Daphne's great, great grandmother Mary Anne Clarke. These are two very different novels, but both are fine examples of Daphne's extraordinary story-telling skill.
Current paperback editions of the two books, published by Virago
We like to give you the titles of the books in plenty of time so that you have time to read them before attending the events. At these regular Festival events, Laura introduces the book, and then participants enjoy a relaxed and informal discussion.
Fowey Festival takes place from 8th to 16th May, and we will announce the programme schedule here, and on our website, as soon as it is published so that you can book your place at the reading group events. We are sure that there will be lots of fantastic Du Maurier events in store but in the meantime dear du Maurier fans, get reading!