The Apple Tree by Daphne du Maurier to join's Seth's Christmas Ghost Stories series.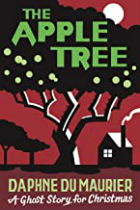 The Apple Tree, a short story by Daphne du Maurier, which was first published in a collection of short stories called The Apple Tree in 1952, and later with a change of title to The Birds and Other Stories, is to be published as a single story in time for Christmas.

The successful series of Seth's Christmas Ghost Stories is adding The Apple Tree to its collection this year, along with several other titles, all of which will be illustrated by the well-known cartoonist Seth. Published by Biblioasis in a lovely little paperback 152 x 100 mm, with an expected retail price of £4.99, this book is going to be an excellent Christmas gift for everyone who loves to read Daphne du Maurier. Other authors in the series include E.F. Benson, Charles Dickens, Elizabeth Gaskell, M.R. James and Edith Wharton.