Local amateur group the Tamaritans Theatre Company presents September Tide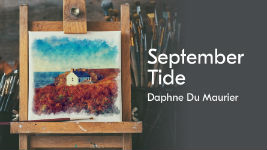 An absolute treat is in store for du Maurier followers in the West Country. The Tamaritans Theatre Company are presenting Daphne du Maurierís masterful play September Tide at The Drum, Theatre Royal, Plymouth from Tuesday 25th until Saturday 29th June 2019.

Originally written with the working title Mother and first performed in 1948, the play began life with a short pre-London tour, beginning in Oxford, before moving to the Aldwych Theatre in Londonís West End in December 1948. The play starred Gertrude Lawrence as Stella and ran for 267 performances before closing in August 1949.

September Tide tells the story of beautiful widow Stella, who lives in a Cornish harbour-side house, based on the du Maurier family home Ferryside at Bodinnick-by-Fowey. When her daughter Cherry brings her new husband Ewan home for the first time, Stella is shocked by the bohemian incompleteness of their marriage. She finds herself attracted to Ewan and soon they are clearly in love, although much is left unspoken. How can a mother admit to such feelings or contemplate their impact?

This production is directed by Noel Preston-Jones.

For further information and to book your tickets please click here: https://www.theatreroyal.com/whats-on/2019/september-tide/