Fowey Rook Hunt 2019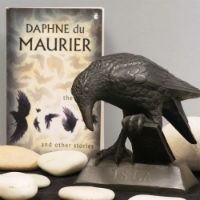 Thrussells in partnership with the Fowey Festival of Arts and Literature present The Rook Hunt 2019
The Fowey Rook Hunt 2019 was lunched at the official launch of this year's Fowey Festival programme on Saturday 16th March and you still have plenty of time to take part, so if you live in the Fowey area or a visiting do join in.
A parliament of six Rooks are terrorising the town and are lurking around Fowey town centre. Some people have said they have been sighted in various business windows! All you have to do is find the six rooks and the letter of the alphabet which is with each bird. Download an entry form from the Thrussells website https://thrussells.com/rooktrail/, fill in the locations of the birds and work out the anagram from the letters you have found with the birds. Then submit your entry by 19th May 2019.

You could win your own rook statue worth £150.00.