A Royal visit to Bookends of Fowey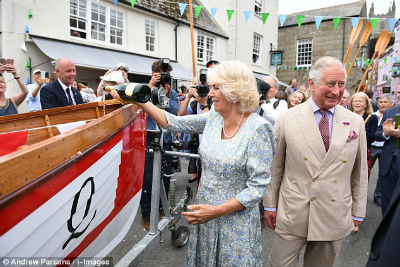 The Duke and Duchess of Cornwall on Town Quay, Fowey this morning (16th July 2018). The Duchess names the new gig 'Q'
As part of their visit to Cornwall the Duke and Duchess of Cornwall visited Fowey today. The Duchess named the new gig Q, after the great literary man of Fowey Sir Arthur Quiller-Couch. Prince Charles presented Jonathan Pritchard with his long service medal for 25 years as part of the lifeboat crew and they both met many local people including the children from Fowey Pre-School and Fowey Primary School.
Prince Charles at Bookends of Fowey
The Duchess of Cornwall visited The Webb Street Company and Prince Charles came into Bookends. He was very interested in the books, especially the older ones and asked about people's continuing interest and enthusiasm for books. He talked briefly about Winston Graham and the Poldark series of books and he spoke of Boy Browning, Daphne du Maurier's husband who worked for Prince Philip during the years following the 2nd World War. The Duchess of Cornwall then also popped in as she said she could not resist a book-shop.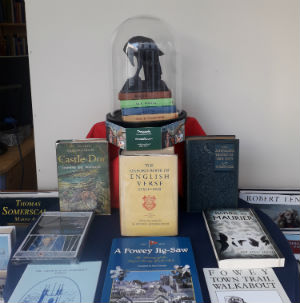 The current window display at Bookends – fit for a Prince we hope!
We felt very honoured to welcome our Royal visitors and were delighted to be able to speak to them about the authors that are associated with Fowey and particularly Sir Arthur Quiller-Couch and Daphne du Maurier.