'Rook with a Book' replica sculptures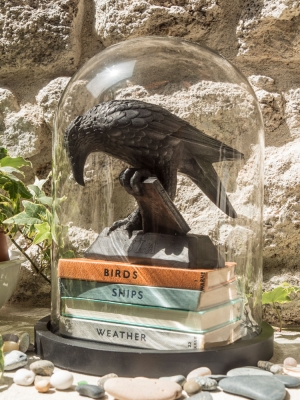 Replicas are now available to purchase of the 'rook with a book' sculpture that was unveiled in Fowey in March this year to celebrate the life and works of Daphne du Maurier. (To read more about the sculpture, visit this news post on our website here).
Designed by father and son team, Thomas and Gary Thrussell, the sculpture of the bird- nicknamed 'the rook with a book' and called Isla, after the sculptors' granddaughter- has been a huge hit with visitors in Fowey and du Maurier fans online.
Replicas of the sculpture can be purchased online from the Thrussells' website here. Each sculpture is individually numbered and is available on its own or in a display dome sat atop a pile of Observer books as in the examples here.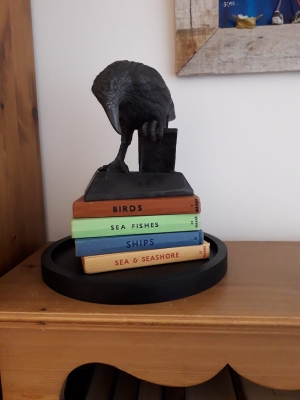 Ann Willmore's replica sculpture.
The statue itself has been reproduced directly from the original sculpture using digital 3D imaging to create a copy of the rook which is 16cm tall and made of a dark pewter resin. Each statue has the weight and appearance of a bronze casting.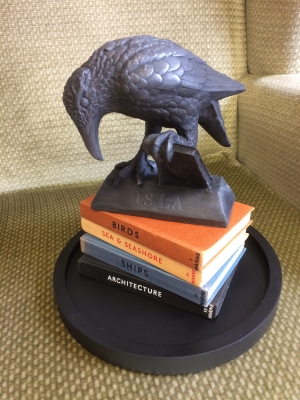 Laura Varnam's replica sculpture.
We are delighted to see these high quality replica statues and we are sure that du Maurier fans will be keen to purchase one! Our thanks to Thomas and Gary for making this possible.
The limited edition replicas can be order on the Thrussells website here and one of the sculptures is currently available to purchase in Fowey at the Fowey River Gallery.
The original 'rook with a book' with Ferryside in the background.