Rebecca wins W H Smith Nation's Favourite Book competition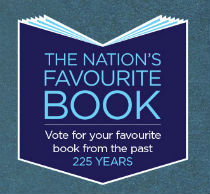 This year W H Smith is celebrating its 225th anniversary and as part of the celebration held a competition to find the Nationís favourite book written in the last 225 years. Earlier this year they asked their Facebook, Twitter and Instagram followers to contact them with recommendations of their favourite books. Then, using those recommendations, they produced a short list of twenty titles and asked people to vote for their favourite.
Todayís brilliant news is that Rebecca has been announced the winner. Thanks to all of you for voting for Rebecca as our favourite book of the last 225 years.
For more information click on the link below.
https://blog.whsmith.co.uk/the-nations-favourite-book-from-the-past-225-years-as-voted-by-you/