Today Ė the two most exciting Fowey festival events ever!
At 11am, in the Town Hall, we are very happy to welcome Tatiana de Rosnay, best-selling novelist and author of the new biography about Daphne du Maurier Ė Manderley Forever. Tatiana travels to Fowey from her home in Paris to talk with du Maurier expert Dr Laura Varnam.
As a thirteen-year-old Tatiana read and reread Rebecca, becoming a lifelong devotee of Daphne du Maurierís fiction. In this biography, she pays homage to the writer who influenced her so deeply, following her from a shy seven-year-old to a rebellious sixteen-year-old, a twenty-something newlywed, and finally, a cantankerous old woman. This vivid and compelling work was a huge success when it was published in France in 2015 and is a must read for all du Maurierís followers everywhere.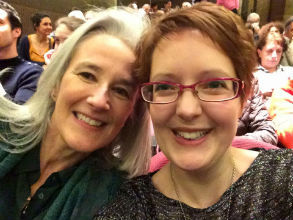 Tatiana and Laura at the Paris Premiere of Daphne du Maurier: In the Footsteps of Rebecca

Tatiana is the author of ten novels, including her most well know work Sarahís Key.

Both Bookends of Fowey and Waterstones have a small number of copies of Manderley Forever for sale and Tatiana will be happy to sign copies after her event.
*****
At 4pm, in St Fimbarrus Church, join us for the UK Film Premiere of Daphne du Maurier: In the Footsteps of Rebecca, preceded by a panel discussion between Patricia Houtart the filmís producer; Elisabeth Schlumberger, director; Tatiana de Rosnay, novelist and biographer and Dr Laura Varnam, du Maurier expert. The panel discussion will be led by Professor Helen Taylor.
The documentary was shown in France and Germany on the European culture channel Arte in February, but this is its first showing in the UK. The film features interviews with Daphne du Maurierís daughter Lady Tessa Montgomery and Tatiana de Rosnay, rare archive material, scenes filmed on location in Fowey and interviews with du Maurier experts, Piers Dudgeon, Professor Helen Taylor, Dr Laura Varnam and Ann Willmore. It features interviews in English plus commentary in French with English subtitles.
Patricia Houtart
Elisabeth Schlumberger
Professor Helen Taylor

Following the event, it will be possible to buy copies of the documentary on DVD.