Jamaica Inn the Musical premieres in Luton on 17th May
An amazing adaptation of the ever-popular gothic novel Jamaica Inn by Daphne Du Maurier takes to the stage in the evocative setting of St Andrew's Church, Luton from 17th – 20th May. Set in Cornwall in the early 1800's it tells the story of Mary Yellan, who comes to live with her downtrodden aunt and mysterious uncle at the dark and lonely Jamaica Inn on Bodmin Moor. Something dangerous is going on and Mary is determined to discover the secrets of her Uncle Joss and his unsavoury colleagues.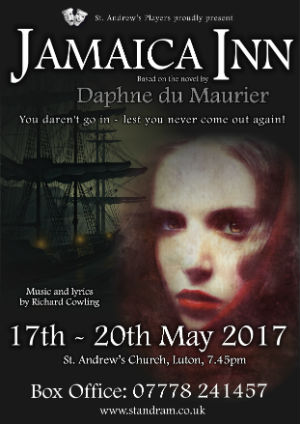 Frances Hall, Chairman of the St Andrews Players, invites you to join them at the launch of a brand-new musical. It is a rare opportunity to produce something completely new, and the St Andrew's Players have grasped this opportunity with enthusiasm. Already the atmosphere at rehearsals fizzes with energy and the remarkable music that has been written especially for this production.

Written and directed by Richard Cowling, with choreography by Jo Harris and welcoming Helen Cope as Vocal Director and Terry Driver as Orchestra Director, this exciting new show is not to be missed. The organisers are expecting loads of interest, so to avoid disappointment book your tickets early.

This will be a memorable production, and the cast and crew cannot wait to share it with you.