Manderley Forever by Tatiana de Rosnay Ė English language edition
The English language translation of Manderley Forever, Tatiana de Rosnayís biography about Daphne du Maurierwill be published in the United States on 18th April and in the United Kingdom very soon afterwards.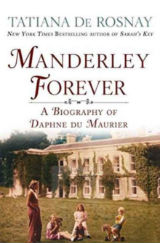 As a thirteen-year-old Tatiana read and reread Rebecca, becoming a lifelong devotee of du Maurierís fiction. In this biography, she pays homage to the writer who influenced her so deeply, following her from a shy seven-year-old to a rebellious sixteen-year-old, a twenty-something newlywed, and finally, a cantankerous old woman. This vivid and compelling work was a huge success when it was published in France in 2015 and is a must read for all du Maurierís followers everywhere.
Tatiana is the author of ten novels, including her most well know work Sarahís Key. She lives in France with her husband and children.