My Cousin Rachel film trailer and cinema release date
28th January 2017: My Cousin Rachel, the film that all fans of Daphne du Maurier have been waiting for, is due for cinema release on 9th June 2017. Rachel Weisz stars as Rachel and Sam Claflin as Phillip, the young man who finds himself falling in love with his cousin despite believing that she may be responsible for the death of his guardian Ambrose. Co-stars in the film include Iain Glen, Holliday Grainger, Andrew Knott and Lee Frair.

The film has been written and directed by Roger Michell, who is already know for films such as Notting Hill and Enduring Love. The newly released trailer for the film suggest that Mitchell has followed Daphne du Maurierís original novel closely, which will delight followers of her work.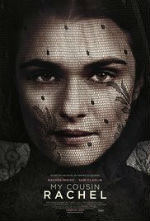 The book was originally published in Britain in July 1951, and in the United States the following February, at a time when Daphne was at the peak of her success as a novelist. The story is set in Cornwall and Florence, with the Cornish scenes taking place in the area around Daphneís home at Menabilly and the small town of Fowey close by.

Hopefully the film, like the book, will leave us all wondering about Rachelís motives long after we leave the cinema.

Click here to watch the trailer - www.youtube.com/watch?v=atObndOdeDg