My Cousin Rachel film release date
The 2017 release date for the new film of My Cousin Rachel as been delayed a little. Previously a release date of 5th May 2017 had been suggested but now Fox Searchlight have moved the release back to Friday 14th July 2017.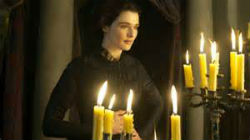 Based on the 1951 book by Daphne du Maurier the film follows a young Englishman who plots revenge against his cousin who he believes murdered his guardian. But his feelings become complicated and he falls for her. The film is directed by Roger Michel and stars Rachel Weisz, Sam Calflin, Holliday Grainger, Iain Glen and Pierfrancesco Favino.