More merchandise in the Virago Modern Classics gift range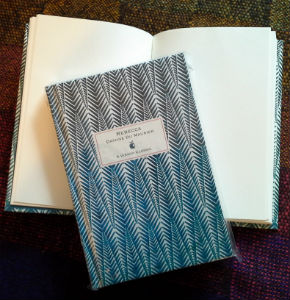 July 2016: In January we told you about the porcelain mugs that Virago had created in their Virago Modern Classics gift range. Now we can introduce you to the beautiful journals that they have also produced.
Again Virago celebrates three of its most popular titles: Rebecca by Daphne du Maurier, Excellent Women by Barbara Pym and Valley of the Dolls by Jacqueline Susann. Of course the Rebecca journal is our favourite because now you can write in your very own Rebecca notebook.
The artwork for the Virago Modern Classics hard back edition of Rebecca, the mug and the journal was designed by the award-winning textile designer Neisha Crosland. Each beautiful item is a delight to own and a set of all three is an absolute treat.