New book about George du Maurier published
March 2016:George du Maurier: Illustrator, Author, Critic - Beyond Svengali edited by Dr Simon Cooke and Professor Paul Goldman has been published by Ashgate Publishing Ltd., Surrey.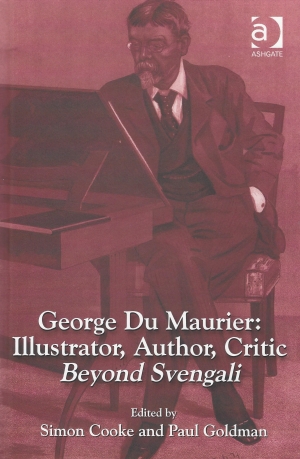 Though well-known as the author of Trilby and the creator of Svengali, the writer-artist George du Maurier had many other accomplishments that are less familiar to modern audiences. This collection traces du Maurier's role as a participant in the wider cultural life of his time, restoring him to his proper status as a major Victorian figure. Divided into sections, the volume considers du Maurier as an artist, illustrator and novelist who helped to form some of the key ideas of his time.
The contributors place his life and work in the context of his treatment of Judaism and Jewishness; his fascination with urbanization, Victorian science, technology and clairvoyance; his friendships and influences; and his impact on notions of consumerism and taste. As an illustrator, du Maurier collaborated with Thomas Hardy, Elizabeth Gaskell and sensational writers such as M. E. Braddon and the author of The Notting Hill Mystery, Charles Warren Adams. These partnerships, along with his reflections on the art of illustration, are considered in detail. Impossible to categorize, du Maurier was an Anglo-Frenchman with cultural linkages in France, England, and America; a social commentator with an interest in The New Woman; a Punch humourist; and a friend of Henry James, with whom he shared a particular interest in the writing of domesticity and domestic settings.
Closing with a consideration of du Maurier's after-life, notably the treatment of his work in film, this collection highlights his diverse achievements and makes a case for his enduring significance.