Manderley For Ever by Tatiana de Rosnay
Tatiana de Rosnay, the writer best known for her novel Sarah's Key, has been fascinated by Daphne du Maurier since she was a child and it was Daphne who made her want to be a writer.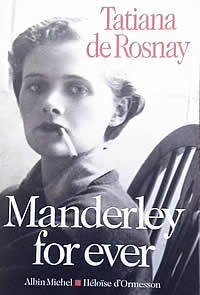 Tatiana's book Manderley For Ever, grown from that obsession, is the first biography written about Daphne du Maurier in the French language.
It is already provoking a renewed interest in Daphne du Maurier in France and has led to a new French translation of her most famous book Rebecca.
The work of translation has been carried out by Anouk Neuhoff and Rebecca will be published to coincide with the launch of Manderley For Ever, in France, on 25th February 2015.
There are hopes that Manderley For Ever will be translated into English at some point in the future.