Daphne du Maurier Society of North America – Christmas Luncheon and Discussion 2022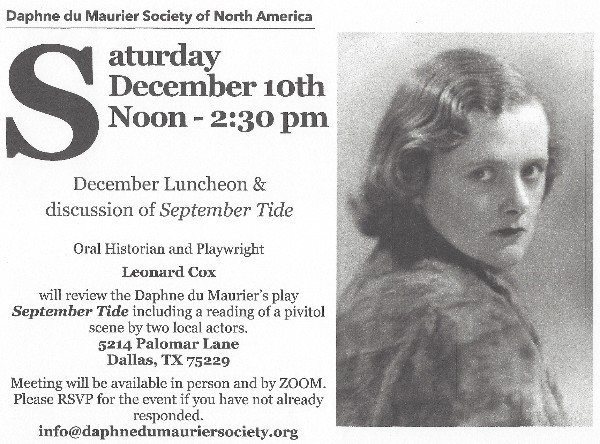 The Daphne du Maurier Society of North America has announced its event for December. It sound like a lot of fun and a super way to start off the Christmas celebrations.




This year the annual Christmas in Cornwall Luncheon (held in Dallas, Texas rather than Fowey) takes place on Saturday, 10th December 2022, Noon - 2.30pm., at 5214 Palomar Lane, Dallas, TX 75229.




This year there will be a discussion on the subject of Daphne du Maurier's play September Tide, led by local historian and playwright, Leonard Cox.




The story, set at Ferryside, revolves around an artist son-in-law who falls in love with the more mellow grace of his wife's mother.




The discussion of the play will include a reading of a pivotal scene by two local actors.




If you are not able to attend the luncheon, you can still join the discussion via Zoom




To book your place please click here.