The Daphne du Maurier Society of North America – Fall Short Story Study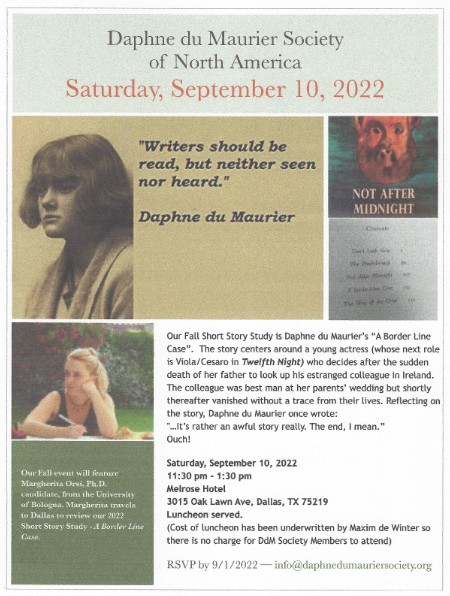 The Daphne du Maurier Society of North America's Fall Short Story Study for 2022 takes place on Saturday 10th September, from 11.30am – 1-30pm at Melrose Hotel, 3015 Oak Lawn Avenue, Dallas, TX 75219.
The story to be discussed is A Border-Line Case, originally published in Not After Midnight and Other Stories by Victor Gollancz Ltd in the UK and Don't Look Now, published by Doubleday and Company Inc, in the US, in 1971.
The story centres around a young actress whose next role is to be Viola/Cesario in Twelfth Night. After her father's sudden death, she decides to visit his estranged colleague in Ireland. The colleague had been the best man at her parent's wedding but shortly afterwards had vanished from their lives.
Of course, because this is a du Maurier short story, there are remarkable and perhaps even terrifying repercussions.
Reflecting on this short story, Du Maurier once wrote:
"… it's rather an awful story really. The end, I mean."
The Short Story Study will feature Margherita Orsi, a PhD student from the University of Bologna, who will travel to Dallas to review A Border-Line Case.
Luncheon will be included at no charge to Daphne du Maurier Society of North America members.
For more information please click here.