Landscape Magazine article – Unspoilt Havens by the Waterside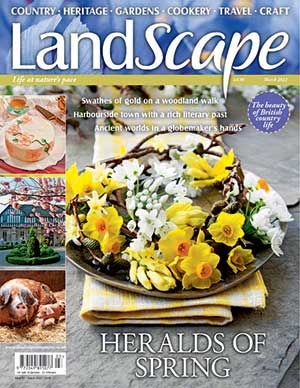 Freelance writer Simone Stanbrooke-Byrne has written an excellent and informative article about the area from Lostwithiel to Fowey, describing the towns, villages, and countryside along the way, including the history and literary inspiration this area provides. This beautifully illustrated, eleven-page article is featured in the March edition of Landscape Magazine, which is available now. It is a fantastic read for all of you who share a love of this area and its connection to Daphne du Maurier.
Simone approached experts in the various areas covered by the article, including Christine Walton, current chair of the museum in Lostwithiel; Natalie Toms, an artist inspired by the farmland and pockets of woodland in the area and Claire Hoddinott, environment officer for Fowey Harbour. Simone also contacted us at the Daphne du Maurier website. This allowed us to talk to her about the inspiration many authors have found in this area. Daphne du Maurier is important because her words describe the area so well. We also talked about Sir Arthur Quiller-Couch, the great literary man of Fowey, and others, including Kenneth Graham, who was married in St Fimbarrus Church, Fowey.
If you love the Lostwithiel and Fowey area, do order a copy of the March edition of Landscape Magazine from your newsagents or buy one from their website: https://www.greatmagazines.co.uk/landscape-march-2022