The Daphne du Maurier Society of North America – thoughts on the new adaptation of Rebecca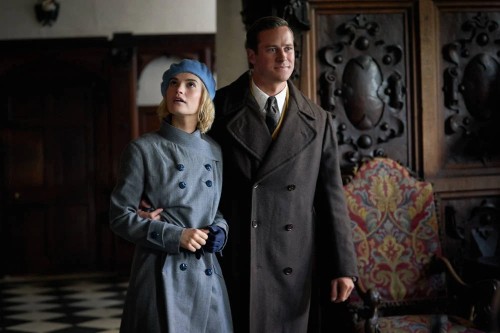 On 21st October, the day the new adaptation of Rebecca was first screened on Netflix, the Daphne du Maurier Society of North America had a small, Covid safe, event in Dallas. They kept the group small because of social distancing but had a lovely time watching the movie together.
Afterwards, they sent me an e-mail with their thoughts. They had a variety of opinions about the film, but enjoyed it and were happy for there to be a new adaptation of Daphne du Maurier's most famous novel. They hoped the response to this film with mean that more people will want to adapt Daphne's stories into film in the future.
They were aware that there had been many reviews. And that the new adaptation of the movie did not seem to have pleased many of the reviewers. They felt that it must be a daunting task to try to create a decent adaptation of such a beloved novel, especially when another adaptation is already so popular.
Shirley Kinney, president of the Daphne du Maurier Society of North America, said that her favourite thing about the film was the incredible set design and costuming. Everything was so colourful and lush, and some of the shots of the seaside cliffs nearly took her breath away. She noted that there was a lot of yellow in the costumes, Maxim's suit at the beginning of the film, the vest that the main character wore at the trial, Mrs Danvers' scarf when she jumped into the sea. She wondered if there was a metaphorical significance to it.
Shirley said she also enjoyed the twist about Mrs Danvers drowning herself. She agreed with me that it made perfect sense that she would want to be close to Rebecca, even in the way she died.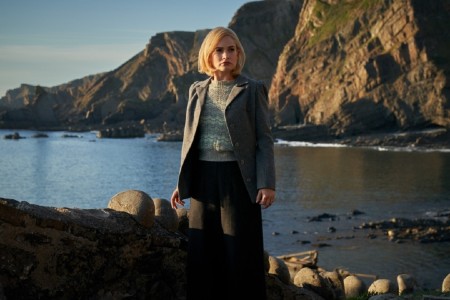 Cindy Jones, a member of the Daphne du Maurier Society of North America, and one of those present at the event in Dallas on 21st October has written a review for us about the new Netflix adaptation of Rebecca. Here it is:
Review: Netflix Remakes Rebecca
By Cindy Jones for the Daphne du Maurier Society of North America
Last night, a group of us went to Manderley again. More precisely, the Daphne du Maurier Society of North America met for dinner and a showing of the new Netflix adaptation of Rebecca. Among us were an English professor, a librarian who, as a young girl, corresponded with Ms. du Maurier—we've all seen the letter—and others, who, true to our heritage, thrive over discussion and debate of finer points in the stories of Daphne du Maurier. And when it comes to a new adaptation of Rebecca, the beloved novel in continuous publication since 1938, we've got skin in the game.
Let's just say our reaction was mixed. Of course, none of us approved of the ubiquitous mustard suit or Maxim's newly acquired sleepwalking affliction or those intrusive folksongs. We delighted in Keely Hawes' depiction of Maxim's sister, and some of us were glad to see the second Mrs. de Winter's new backbone. And although we gave high marks for the production design, we had to wonder: what they were thinking when they put those silly vines on the floor?
We imagine Ms. du Maurier's reaction would be mixed, as well. She might approve of the way Kristen Scott Thomas worked that lipstick, however, she might fail to be amused by the sexy sand scenes. She would most assuredly welcome the industry's relaxation of censorship, finally allowing her plot to express itself in the third act.
Yet, we have to pause here and consider. What could possibly transcend Ms. du Maurier's sense of validation in watching the world welcome yet another adaptation of her novel more than eighty years after she wrote it? And what could be more flattering during this crazy dysfunctional time, than a peaceful gathering in the name of Rebecca, regardless of what anyone said?
The opportunity to be with Rebecca again, to return to Manderley under whatever conditions, is a gift to readers like us. Even if the screenplay was updated beyond recognition, we would still watch it, looking for that feeling of our first reading, recalling the gothic tension such as we experienced reading the Brontes, the genre-defying complexity we have sought ever since but rarely found. Adapters can adapt all they want; we're grateful for any attempts to recapture the Rebecca we know. But forgive us for not holding our collective breath waiting on adapters. The truth is self-evident: the film is never as good as the book.
Beautifully put Cindy. We extend our thanks to Cindy Jones, Shirley Kinney and all the member of the Daphne du Maurier Society of North America. It is an enormous pleasure to be joined with you all in our affection for Daphne du Maurier.