Daphne du Maurierís granddaughter Grace Browning talks to us about the forthcoming Netflix adaptation of Rebecca
Grace Browning, Daphne du Maurierís granddaughter, has written an article for us about the new Netflix adaptation of Rebecca. It is a treat for all of us to have a contribution from a member of Daphneís family, and we are absolutely delighted to bring this article to you.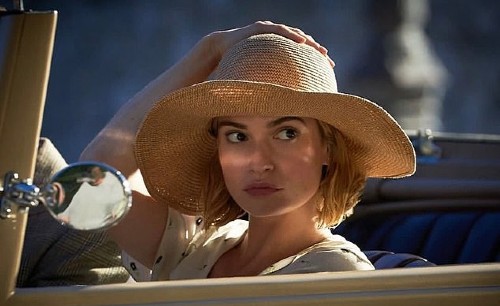 I have seen countless versions of Rebecca on stage, and on television and after a while, it can become difficult to be objective. It is an incredibly difficult thing to make a film of a book that is so loved and also to do a new version of it - especially when the original won an Oscar for best film in 1940. However, a very distinguished Casting Director friend of mine once told me
A book is a book, a film is a film, you canít compare the two
and I completely understood what she meant. Readers of any book being adapted and made into a movie will already have a preconceived idea of what the film should or shouldnít be, and it is impossible to please everyone. I will go so far as to say I wonít call this new film a re-make because I donít believe it is and when you see it - I hope you will agree.
It took a few years to get this into production, but once the director Ben Wheatley was on board, I was able to meet with the lovely Amelia Granger from Working Title Films who told me that Benís family adored the book and that he was very passionate about doing it. I will confess, we were surprised at him wanting to do it and thought he would be more suitable to Donít Look Now, but nevertheless, it was exciting. The casting process began, and we were updated as things progressed and felt involved and informed along the way.
During filming last year, I was able to visit the film set on a beautiful hot day in June. They were shooting the evening of the fancy dress ball and the big reveal on the staircase and as I arrived at Hatfield House, which stars as Manderley, - my eyes were on stalks staring at all the glorious costumes the supporting artists were wearing. It felt thrilling being there, in the midst of it all and the pages of dialogue coming alive in front of me.

I was able to finally see the completed film this September, at a private viewing and Iím not embarrassed to say I shed a tear as the credits rolled. Such anticipation, suspense, and anxiety at what the film would turn out to be had gone in a flash and I was overwhelmed with a sense of such enormous pride, and relief at how much I enjoyed it.

I think Ben Wheatley and his team have brought a new lease of life to the material and done it in a very stylish and captivating way. I must mention the cinematographer Laurie Rose and the costume designer Julian Day, and once you see the film, I hope youíll see whyÖ.

If by watching the film it can pique the interest of a few new readers to discover the literary works of Daphne du Maurier then that would be lovely - but if it does one thing only and gives you a good hour or so of pure escapism and uninterrupted pleasure then it has done its job. Enjoy!

The film is released theatrically at selected cinemas this Friday 16th October and then on Netflix on 21st October.
© Grace Browning October 2020