Art at St. John's Bodinnick Exhibition 26 - 29 October 2023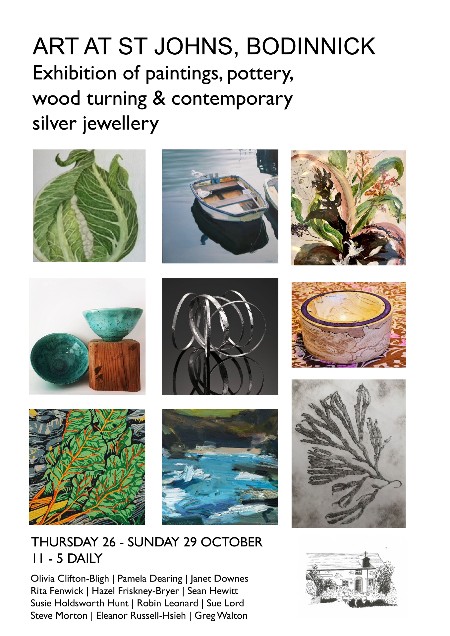 An exhibition of paintings, pottery, wood turning, and contemporary silver jewellery is taking place at the tiny church of St John's Bodinnick in Cornwall from 26th – 29th October.

St. John's is one of the smallest churches in Cornwall and is set in the middle of the village, just up the hill above Ferryside and the Old Ferry Inn. The church was originally the stables for the Old Ferry Inn and was given to the village by the owners in 1947. The building was converted and consecrated as a place of worship for the people of Bodinnick.

The Friends of St John's Charity raises funds to maintain the fabric of the building and to save the church from the threat of closure. Art at St. John's was established as one of the charity's ways of fundraising in October 2022.

While attending the Fowey Festival of Arts and Literature in May this year, some of you may have taken the ferry across to Bodinnick to visit St. John's art exhibition, which, on that occasion, was part of the Fowey Festival Arts Trail. If you did, you will have been lucky enough to see Daphne du Maurier's paintings displayed for the first time.

If you are in Cornwall during half term, do try to call into the St. John's exhibition. Remember, the dates are 26th – 29th October, from 11am – 5pm daily.