An exhibition celebrating the lives of female writers and literary characters is taking place at Arundel in West Sussex – October 2023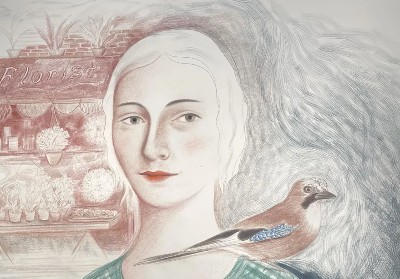 Mrs Dalloway by Daisy Harcourt

The Mill Studio in Arundel, West Sussex, run by Gallery director Holly Fox-Lee, is the venue for a new exhibition, Women and Word, which celebrates the lives of female writers and characters from literature. In this exhibition, artist Daisy Harcourt explores the unique discourse between artist and writer in a set of new and recent drawings, all portraying either female writers or characters that female writers have created.

Included in the exhibition are literary characters as diverse as Clarissa Dalloway, from the novel Mrs Dalloway by Virginia Woolf, Elizabeth Bennet from Pride and Prejudice by Jane Austen and Arrietty Clock from The Borrowers by Mary Norton. Writers include our very own Daphne du Maurier, which is, of course, my main reason for telling you about this exhibition.

The exhibition is at The Mill Studio, New House Farm Barns, Ford Lane, Arundel, BN18 0EF. Closed Monday and Tuesday; Wednesday 10am-3pm; Thursday 10am-3pm; Friday 10am-3pm; Saturday 10am-4pm; and Sunday 10 am-4pm. Entry is Free.
To read more about this exciting exhibition, please click here https://uk.sports.yahoo.com/news/arundel-exhibition-celebrates-lives-female-080500137.html

If anyone has the opportunity to go to this exhibition, please let us know what you think by emailing us at info@dumaurier.org.