Daphne du Maurier Society of North America – Christmas Luncheon and Discussion 2023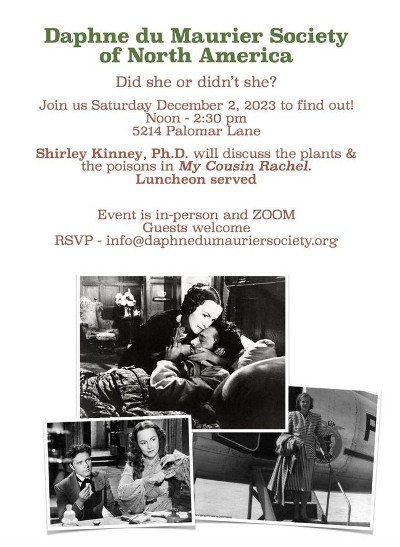 This year, the Daphne du Maurier Society of North America is holding its Christmas in Cornwall Luncheon, Herbs and Plants in My Cousin Rachel, on Saturday 2nd December, from 12 noon until 2.30pm.
As well as a delicious celebratory lunch, Daphne du Maurier Society President Shirley Kinney, PhD, will discuss poisons of the past in her review of the various herbs and plants in Daphne du Maurier's remarkable novel My Cousin Rachel.

The annual Christmas in Cornwall Luncheon will take place in Dallas, Texas, rather than Fowey, regrettably, at Mena-kinney, 5214 Palomar Lane, Dallas, TX 75229.
The event will be available on ZOOM.
Please register accordingly at https://daphnedumauriersociety.org/2023-events