Shot With Crimson by Nicola Upson – published 2nd November 2023
I will never understand why murder is considered such a lowbrow speciality in Hollywood. Crime doesn't have to be second-class literature…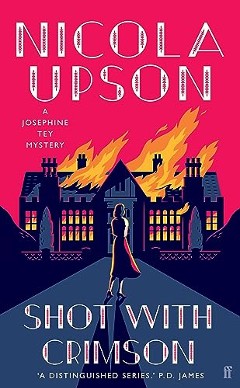 The front cover of Nicola Upson's new novel, Shot With Crimson



Nicola Upson is a British writer based in Cambridgeshire and Cornwall. She writes a series of crime novels with a fictional Josephine Tey as her central character.

Josephine Tey (1896 – 1952) was one of the pseudonyms used by the Scottish writer Elizabeth MacKintosh. Using the name Josephine Tey, she wrote several mystery novels, her most well-known being The Daughter of Time and The Franchise Affair. She also wrote as Gordon Daviot.

In Nicola's novels, Josephine Tey's sidekick is Metropolitan policeman, Archie Penrose. These novels also include other real people as characters within the stories. For example, Alfred Hitchcock and his wife Alma make appearances in a number of Nicola's books.
Nicola's new novel, Shot With Crimson, is the eleventh novel in her 'Josephine Tey' series and will be published on 2nd November.

A quote from Good Reads reviewer - Kayleigh | Welsh Book Fairy:
One of the main points I would like to make about this book early on in this review is that it is a love letter to Daphne du Maurier and, therefore, explores and reflects on her novel, Rebecca, extensively, meaning that there are plenty of spoilers in Shot With Crimson for those who want to read Rebecca for the first time at some point.

This is a book you do not want to miss. Shot With Crimson sets the scene by opening with a flashback to the summer of 1917. However, the main narrative takes place at the beginning of the Second World War. Within the novel, two main strands interact with one another. The central theme is the filming of Daphne du Maurier's novel Rebecca in Hollywood, Alfred Hitchcock is making his first foray into directing a film in the US, with a level of input from the film's producer David O. Selznick, who keeps tabs on Hitchcock to ensure the film stays faithful to Daphne's novel.

Meanwhile, in the UK, the other strand of the story takes place at Milton Hall, the house near Peterborough that Daphne and her sisters visited with their mother during the First World War. In WW1, an auxiliary hospital was set up in the house. During WW2, the military used the house for training purposes. Both these facts are woven into Nicola's story.
For readers of Nicola Upson's 'Josephine Tey' series, this is a book you will love. It twists and turns and sets you on the edge of your seat as you read and are challenged, wondering which direction the plot will take. It is a little bit scary but absolutely gripping. For all of you who are fascinated by Daphne du Maurier, this story will capture your imagination and bring to mind much that you will have read about two different periods of her life. It is an absolute winner of a book, and we highly recommend it.
Shot With Crimson is published in hardback by Faber and Faber on 2nd November 2023. Price £16.99.

Ann Willmore October 2023.