Rhododendrons at Manderley and Menabilly
Earlier this month, The Conversation* published an article called The Secret World of Rhododendrons: a plant more ancient than the Himalayas that inspired fables and stories around the world. It was written by Richard Milne at The University of Edinburgh. It proved to be a fascinating article, and I realise there is so much I did not know about this ancient shrub. To read the article yourself, please click here: https://theconversation.com/the-secret-world-of-rhododendrons-a-plant-more-ancient-than-the-himalayas-that-inspired-fables-and-stories-around-the-world-212028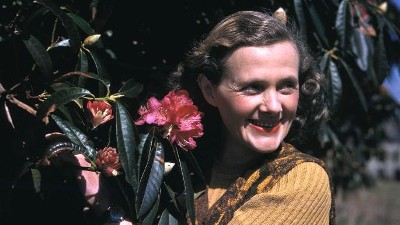 Daphne du Maurier with Rhododendrons in the grounds of Menabilly

Rhododendrons always make me think of Daphne du Maurier and her most famous novel, Rebecca, and indeed, the author of this article included a reference to it:
In the West, rhododendrons have also featured in stories. "Massed red rhododendrons" are repeatedly used to evoke the spirit of the title character in Daphne du Maurier's 1938 Gothic thriller Rebecca.
However, even earlier than Rebecca, we find rhododendrons in Daphne's fiction. They appear in her short story The Happy Valley, first published in the Christmas 1932 issue of The Illustrated London News, then totally lost and forgotten until Virago published it in the short story collection called The Doll: Short Stories in 2011.
This much overlooked short story is set partly in the 'happy valley' that we later come across, in the grounds of Manderley, in Rebecca. The description is very similar to the one she writes later when describing the overgrown driveway into Manderley and is also a perfect description of the real 'happy valley' in the grounds of the Menabilly estate. Of course, both The Happy Valley and Rebecca were written during the times that Daphne trespassed in the grounds of Menabilly, before she lived there.
Here is a quote from the opening paragraph of The Happy Valley:
When she first saw the valley it was in dreams…
She would find herself walking down a path, flanked on either side by tall beech trees, and then the path would narrow to a scrappy muddy footway, tangled and over-grown, with only shrubs about her – rhododendron, azalea, and hydrangea, stretching tentacles across the pathway to imprison her.

In the spring, the Menabilly woods are still full of rhododendrons, some as large as trees now and many as red as those immortalised in Daphne du Maurier's writing.
Do read The Happy Valley if you haven't already done so. It is one of Daphne's finest and most overlooked short stories, with its ghostly setting introducing us to what would later be Manderley.

*The Conversation publishes news stories and research reports online, with accompanying expert opinion and analysis. It only publishes articles by academics employed by, or otherwise formally connected to, accredited institutions, including universities and accredited research bodies.