Another Trespasser In the Menabilly Woods
Many of you will already know that Daphne du Maurier first heard about Menabilly, the manor house just outside Fowey, owned for centuries by the Rashleighs from her friends, the Quiller-Couch family. This would have been in the late 1920s when she first stayed at Ferryside at the beginning of her writing career. It is documented that Daphne's sister Angela, and her dog, went with Daphne on the first occasion they tried and failed to find the house. But on a second visit to the land surrounding Menabilly, the house was found, and Daphne's lifelong love of the property began.
Daphne trespassed in the grounds many times, often just sitting and looking at the house and occasionally climbing in through a window to see the inside. It had been uninhabited for some time because the current owner did not want to live there, but the contents were still in place, and the house looked sad and abandoned. Later, Daphne wrote to the owner, Dr Rashleigh, and asked his permission to walk in the grounds, which he granted. Of course, most of us know that later still, during World War II, Daphne rented the house from Dr Rashleigh and lived at Menabilly for twenty-six years. The house features in Daphne's writing in the novels Rebecca, The King's General and My Cousin Rachel.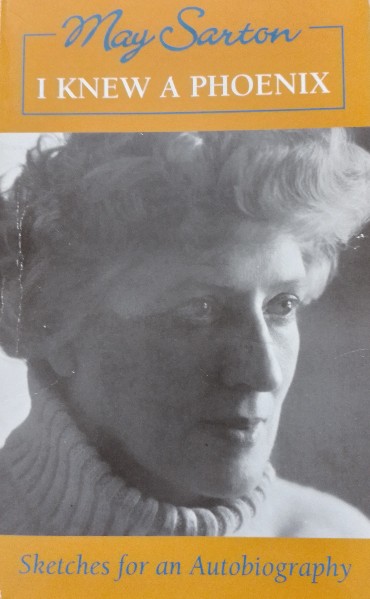 The front cover of May Sarton's autobiography
I recently read Daphne: A Portrait of Daphne du Maurier, a biography by Judith Cook, published in 1991 and a book I have read many times. I stumbled upon a paragraph that had clearly not registered with me before, in which Judith mentions another writer who trespassed in the Menabilly woods only a few years after Daphne had started her practice of wandering through this land, although they didn't meet. The other writer was a young American called May Sarton.
My interest was piqued. I found, on AbeBooks, a second-hand copy of May Sarton's biographical sketches called I Knew A Phoenix, and, sure enough, there is a short account of her adventure into the Menabilly Estate in 1936.
Perhaps even more surprising, May Sarton sets out on her adventure from Kilmarth, the Dower house, to Menabilly, and the house Daphne eventually lived in many years later. May, aged twenty-four, had been very ill, and her parents suggested travel to the UK when she recovered. Her father knew Professor Charles Singer, who was living at Kilmarth with his family and writing his History of Medicine. He also carried out experiments In the basement of Kilmarth. Something that Daphne discovered when she was preparing to move into Kilmarth and a contributing factor to her inspiration when she wrote her novel The House on the Strand.
May had crossed the Atlantic, landed at Plymouth and then caught a train to Par, where Professor Singer met her. Also staying at Kilmarth was Julian Huxley, who was at that time Secretary of the Zoological Society. He was researching the possibility of growing eucalyptus en masse to feed Koala Bears and was also intrigued by the fact that there was a vast amount of bamboo growing on the Menabilly Estate.
So, the following day, despite heavy rain, encased in raincoats and wellington boots and armed with canes, May, Julian and Professor Singer set off to explore the abandoned Menabilly woods, left to run wild for more than twenty years. May described what looked like a jungle that gave way to Himalayan brooks where rhododendrons towered and then to a Malayan-like landscape of bamboo.
We gazed up through a roof of flowering laurel to immense jungle growth of English beeches, found ourselves in an avenue of camelias walking on carpets of white snow, and came out into glades of classic English spring, where bluebells grew so thick they made blue pools…
…At last, we climbed out of the jungle part of the estate to the ghostly house itself, a Victorian pile surrounded by lakes of grass, by grazing sheep, by ancient English oaks, and covered in flowering japonica. We climbed onto the terrace and peered through the windows, and there intact was a complete Victorian world, untouched for fifty years, sending back our own reflected faces as if we ourselves were ghosts being summoned from a distant past…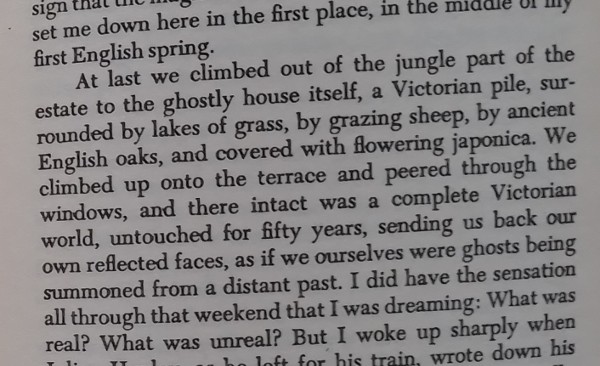 An extract from her passage on finding Menabilly

How fascinating that May found the abandoned house hidden in the woods, overgrown and neglected and, by her description, was as moved by her find as Daphne had been.
Further reading:
Daphne: A Portrait of Daphne du Maurier by Judith Cook., published by Bantam Press, London, UK, in 1991.
I Knew A Phoenix: Sketches for an Autobiography by May Sarton, published by W.W. Norton & Company, Inc., USA, in 1968.
© Ann Willmore October 2022.