Windswept: Why Women Walk by Annabel Abbs – A review and a look at Clara Vyvyan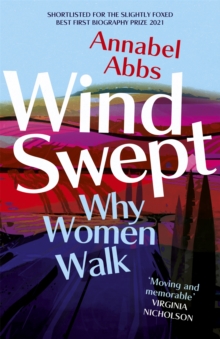 This fascinating memoir tells the stories of some extraordinary women who chose to find their sense of self, their identity, and their freedom by walking. But I mean really walking, in rugged and forbidding landscapes, and often in hostile circumstances. Usually, at a time when women walking long distances, alone or with other women, was not considered the appropriate thing to be doing at all. But, if anything, that only encouraged them to pursue their need to walk. Throughout the book, the author, Annabel Abbs, includes walks that she had undertaken, partly because of her need to walk and partly to follow in the footsteps of the women she was writing about.

The remarkable women whose footsteps Annabel walked in are Freida Lawrence, the wife of D.H. Lawrence, Gwen John, Nan Shepherd, Simone de Beauvoir, Georgia O'Keeffe, Emma Gatewood and Clara Vyvyan (nee Coltman Rogers). The latter walked with Daphne du Maurier on two occasions. These are quite an unexpected combination of women, each very different from the others and with lives that seldom if ever crossed, but all with an abiding desire to walk.

My interest was piqued the moment I saw the name Clara Vyvyan, a dear friend of Daphne du Maurier, included in this walking memoir. Clara (1885 – 1976) was an Australian-born author, writing under the name C.C. Rogers and C.C. Vyvyan. She grew up in England, her mother was from Cornwall, and the family made a home there when Clara was very young. She and her sister were educated at home by a governess. Later, Clara attended the Women's University Settlement in London, gaining qualifications that enabled her to become a social worker, working in the slums of East London. During WW1, she served as a nurse in Rouen, France. After the war, Clara moved to Cornwall and began a career as a writer and market gardener. She travelled across Canada and Alaska, writing about her experiences. In 1929 Clara married Sir Courtenay Bourchier Vyvyan and made her home with him at Trelowarren, Cornwall.

Clara aged about 30 and in later life

She continued to be an avid traveller and writer throughout her life and wrote over twenty books, all of which are now out of print. She is a fine and absorbing writer, and it would certainly be worth your while seeking out second-hand copies of her books through second-hand and antiquarian book shops or via reputable book-selling websites such as
Addall
or
Bookfinder
.
Clara's closest friends included Sir Arthur Quiller-Couch's daughter, Foy, and Daphne du Maurier.

All the women discussed in Windswept are referred to throughout the book, but each has her own chapter. For example, Clara's chapter covers the walk she took down the entire length of the Rhone River early in the 1950s when she was in her late 60s. Daphne du Maurier accompanied her for the early section of the trip. She then walked on alone for some months and was later joined by Foy Quiller-Couch and Oenone Rashleigh, who both walked with her. Clara's adventures alone and with her companions are documented in her book Down the Rhone on Foot, published by Peter Own Ltd in 1955. The book makes it clear that Daphne was an excellent walking companion. She had always been a great walker, but she also understood the need for solitude and that a companionable silence is a valuable thing. Often, the two women spent hours walking quite separately, meeting up from time to time but taking in the walk and the scenery alone. In 1954 Daphne du Maurier accompanied Clara on another journey, this time through Greece, quite often helping the walking along by taking a bus. This trip is described in Temples and Flowers, also published by Peter Owen Ltd in 1955.

Despite being drawn to Windswept because of the inclusion of Clara Vyvyan, I became totally absorbed in each woman as I read her chapter and was immensely impressed by the courage and stamina of these women who struck out on their own, or with other women, in search of fulfilment. I highly recommend this book.
Windswept: Why Women Walk by Annabel Abbs, was published by John Murray Press, in hardback, in June 2021, ISBN: 9781529324716

and by Two Roads, an imprint of John Murray Press, in paperback, in March 2022, ISBN: 9781529324730.
Ann Willmore, July 2022.