Once Upon a Time I Met...Daphne du Maurier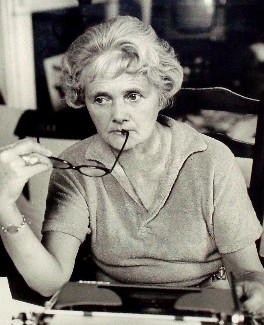 Daphne du Maurier

Mike Alexander contacted the Daphne du Maurier website recently and told us that he met Daphne du Maurier when he was a young man, back in 1960. He has generously agreed to share his account of that meeting with us. Mike is a retire marine pilot, his is married and had two children and a grandson. He is a writer and an avid historian, spending many hours each week working on his family tree.
This is his story:
In mid-1960, I was a serving midshipman on SS Torr Head lying at a China clay quay upriver from Fowey. I was overside on a 'stage' painting the hull under the port quarter. Owing to a momentary lapse in concentration, I fell about 20 feet into the river, surfacing under the hull, thereby breaking all of my ribs. A local Doctor attended and had me conveyed to a Victorian Nursing home above the town. The home had 6 or 8 separate wards, with nursing staff not much older than myself, 16.

Several attempts were made by the Chief Officer to have me re-join the ship, but all were over-ruled by the Doctor. After their day's work, the nurses would sit and chat away with someone nearer their own age than the other residents. One nurse, at my request, changed the piped radio from the fourth programme to Radio Luxembourg, instantly causing a roar of distress from my neighbour, a retired military gentleman. I'd love to have met those girls again. After about three weeks, I was moved into town, to the Old Quay House, near the ship's agents Messrs. Toyne Carter.

The first week was one of disappointment. I had no money. My ship had departed, and at 16 years of age, I was thoroughly fed up. My 17th birthday came along a few days later, and in that week, a Royal Naval lieutenant arrived at The Old Quay House with his new wife, both in their early to mid-20s. They drove a convertible Singer Gazelle, the roof of which was never closed for the week they stayed. Having discovered my plight, they invited me to join them for daytime outings, near and far. They became my salvation. I had a note of their address to write, but it was lost in a house move years later. I did write to the 'Lost & Found' column of Navy News in an attempt to find them but was unsuccessful.

One evening towards the end of their stay, we came down to dinner around 8pm to find another lady in the dining room, seated by herself next to our table. Invited to join us, she made a comment about 'two young men and one lady, which gentleman is free?' It fell to me to respond, informing her I had suffered an accident but was on the mend, and these two kind folks had taken care of me for a week. Introductions made, Daphne du Maurier sat beside me for the remainder of the evening.

Striking in appearance and deliberate in manner, her blue eyes would have held a regiment captive. In an instant, I had found what today would be termed a soul mate. Thankfully I had the presence of mind to realise the gap in our ages would prohibit anything other than conversation. All four of us talked late into the night, during which time she inquired about my future. I explained the path before me, completion of my apprenticeship in 1963, examinations written and oral to Second Mate, then additional sea time for First Mate (written and orals), then further sea time to Master. 'It seems terribly fluid,' she remarked, 'can you take time out and go back?' She had so many interesting questions that I had never pondered upon. Yet, in the space of a half-hour, she had grasped my hopes for the coming years. She was the first person to speak to me as an adult outside of my family. 'Your training as a navigator will ensure maritime employment. What if a time comes and the young man decides to settle? What then?' 'With Masters, an appointment as a surveyor to Lloyds, the hydrographic office, or indeed a shipyard as ship construction and stability were subjects common to each examination', I replied.

Many other subjects were discussed, and the world was put to rights. An enquiry as to Daphne's husband received a short reply. 'At home indisposed, Menabilly', she said. After midnight, when the evening came to an end, Daphne announced she would be spending the night on her MTB anchored behind the Old Quay House and in full view from the dining room.

Much of the conversation that evening revolved around the books Daphne had written that my Naval friend had read and questioned her about. Many years passed before I found one of Daphne's books, quite by accident. This lit a fire within me to seek out more. I read Rebecca then Jamaica Inn, which in a way reminded me of a visit to the Punchbowl Inn upriver. Little did I know, at the time, I would follow her into writing. As a mark of my enduring respect for her, I included her in the final book of a trilogy I have written. Sixty-two years later, I can see her smoking the RN cigarettes, which had been, left open on our table, and taking an occasional sip of whiskey and a mixer that may have been lemonade or ginger or perhaps water. She was so graceful, languid, I would say, easy in conversation and a delight for any young man to accompany.

I returned to Fowey many years later and introduced myself to the gentleman in charge of the Hotel. He had a vague memory of my visit all those years before.

Mike Alexander April 2022

Mike Alexander originally wrote this article as part of his book, Once Upon a Time I Metů, a travelogue containing memories of the many interesting people he has met in his travels worldwide.