Gothic Literature and the place that Daphne du Maurierís Rebecca takes in the genre.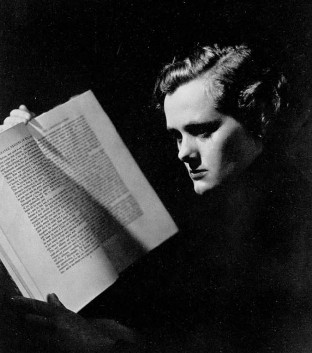 An image of Daphne du Maurier in 1938, the year Rebecca was published.
We are delighted to introduce you all to Dr Serena Trowbridge and five of her final year undergraduate students from Birmingham City University. Serena and her students have been studying the Gothic Literature module of their course work and kindly agreed to provide us with the opportunity to read some of the excellent essays they have written as a result of this study. The module considers novels in this genre, such as Jane Eyre by Charlotte Bronte and The Little Stranger by Sarah Waters. Daphne du Maurierís novel Rebecca can also be considered a work in this genre and is included in the module.
Dr Serena Trowbridge is Reader in Victorian Literature at the School of English, Birmingham City University. Her research interests include Gothic, graveyard poetry, Pre-Raphaelitism in art and literature, lunatic asylums, ecocriticism, and eighteenth and nineteenth-century literature generally. Away from the University, Serena was editor of the Review of the Pre-Raphaelite Society from 2004 to 2017 and is currently Chair of the Pre-Raphaelite Society. Du Maurierís novels, and womenís writing up to the mid-twentieth century, are Serenaís non-academic passion, and she has been an avid reader of Daphneís novels since she read Jamaica Inn when she was twelve.
The five essays, which we are reproducing for you here, provide a wide range of views on Gothic Literature. They discuss novels including Jane Eyre by Charlotte Bronte; Rebecca by Daphne du Maurier; the folktale Bluebeard, originally told by Charles Perrault in 1697, and The Bloody Chamber by Angela Carter, which is a short story based on Bluebeard. Also, Frankenstein by Mary Shelley; The Yellow Wallpaper by Charlotte Perkins Gilman and The Little Stranger by Sarah Waters.
Each essay is a fine piece of writing, and, as a group, they will give you a broad look at Gothic Literature and the place that Daphne du Maurierís Rebecca takes in that genre.
The students and the titles of their essays are as follows:
Izabella Pearson - How do Rebecca and Jane Eyre demonstrate the ways in which the patriarchy allows men to control women?
Download Izabella's essay here

Hannah Stevens - Gender and The Gothic: Why are women that transgress in Gothic Literature punished?
Melissa Julianne Severn* - Reader, I Married Bluebeard: How and why do BrontŽ and du Maurier represent Gothic gender through the perpetuation of Bluebeardian themes in Jane Eyre and Rebecca?
Bilal Akram - The Gothic and Madness
Saskia Gillian Rosenbach - Does Marriage Produce a Happy Ending for Women in Charlotte BrontŽís Jane Eyre and Daphne du Maurierís Rebecca?
*Melissa Julianne Severn has already contributed to the Daphne du Maurier website. She wrote the article The Ulterior Feminism of Rebecca for us. To read this article, please click here