HRH Prince Philip, the Duke of Edinburgh 1921 – 2021
Daphne and Boy at Menabilly 1951. Boy 1955.
Yesterday, as news that the Duke of Edinburgh had passed away went around the world, it was received with great sadness and immense respect for the vital role he had played at our Queen's side since their marriage in 1947. Much is being said about his family life, military career, interests, and massive contribution to the country, the Commonwealth, and the environment, on the news channels and all media outlets throughout the world.
Here on the Daphne du Maurier website, we would like to pay our own small tribute by remembering the Duke of Edinburgh in the context of the role played by Daphne du Maurier's husband, Lieutenant General Sir Frederick Browning (Boy), who worked for him from soon after the end of WW2 until General Browning's retirement in 1959.
In the latter part of WW2 Boy, was appointed Chief of Staff, working for Louis Mountbatten, who was Supreme Allied Commander of the South East Asia Command (SEAC). He took up this post, arriving at the Kandy HQ in Ceylon in late 1944. Lieutenant Philip Mountbatten RN was also in Kandy that Christmas, having taken leave of his ship HMS Whelp to spend the break with Mountbatten, his Uncle. It was at a dinner on that Christmas Eve that Boy and Philip first met. When Boy eventually got back home after the war had ended, he took up a new role in London as Military Secretary, working closely with the Secretary of State for War. This role brought the military and political arena together. In December 1944, Boy had also accepted the position of Commodore of The Royal Fowey Yacht Club, filling a gap left by the death of Sir Arthur Quiller-Couch.
It is well documented that on 20th November 1947, Princess Elizabeth married Phillip Mountbatten at Westminster Abbey. Their first home was to be at Clarence House, and Mountbatten made the suggestion that Boy should be appointed as Comptroller and Treasurer to the Household of Princess Elizabeth a role, that he knew from working with Boy during the war, to which he would be eminently suited. On 22nd December 1947, the appointment was announced, and on 5th April 1948, Boy started working at his new offices in Clarence House.
Boy got on well with the Princess and had much in common with the Duke, with whom he shared an understanding of military life and a love of sailing. Boy travelled with the royal couple on many occasions, both formal and informal. At the end of the war, Boy had brought home from Singapore an MFV (motor fishing vessel), a large yacht with six bunks. Calling her Fanny Rosa after the heroine in Daphne du Maurier's novel Hungry Hill, he had the MFV converted into a vessel suitable for cruising and racing in. Princess Elizabeth and the Duke of Edinburgh had been given a Dragon class yacht, which they called Bluebottle, as a wedding present.
In 1949 Princess Elizabeth and the Duke of Edinburgh joined Boy at Cowes Week for the first time. The weather was so bad that they decided to stay on Fanny Rosa with Boy, although they did go for a short sail in Bluebottle and, at the end of the week, Bluebottle sailed to victory in the Friday race.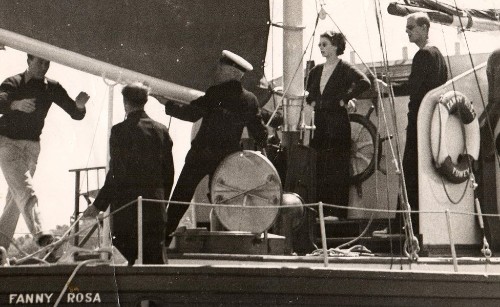 Princes Elizabeth and the Duke of Edinburgh on board Boy Browning's yacht Fanny Rosa at Cowes, IOW, 1949. Also in the picture is the back view of Boy and skipper Richard Thomas Bunt, boatman to General Browning, in the white cap.
In February 1952, King George VI died while Princess Elizabeth and the Duke of Edinburgh were away on a tour of Australia and New Zealand, with an initial stop in Kenya. From Kenya, they flew home, the Princess stepping down from the plane and into her new role as Queen Elizabeth II. This somewhat unexpected and premature turn of events was difficult for the royal couple. It necessitated a move into Buckingham Palace and a change of staff and the roles those close to them played. Boy was appointed as Treasurer to the Duke of Edinburgh, and his employer's activities drove his role from then on. These were difficult days for the Duke, and he will have been glad to have the familiar support of Boy Browning as he adjusted to life as consort to the Queen. He made occasional visits to stay at Menabilly with Boy and Daphne, sailing into Fowey in Bluebottle and visiting the Royal Fowey Yacht Club, enabling him to sail and relax away from the Palace. During these early years of the Queen's reign, Daphne and Boy went to Balmoral as part of the circle of visitors invited to stay during the Royal Family's summer holidays. In 1953 the Duke of Edinburgh became Patron of the Royal Fowey Yacht Club, and although he was not able to visit often, but he took an interest in the life of the club from that time onwards.
In 1959 Boy retired from his role at Buckingham Palace, his health was not good, and he spent most of his time at Menabilly. In 1962, as part of a visit to Cornwall, the Queen and the Duke of Edinburgh sailed into Fowey on the Royal Yacht Britannia and visited Daphne and Boy for tea at Menabilly. Apparently, this event threw Daphne into quite a panic, but to Boy, it was an honour and a privilege. Boy Browning died in 1965.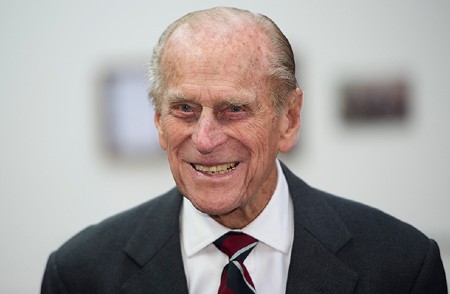 HRH Prince Philip, Duke of Edinburgh.
© Ann Willmore 2021.